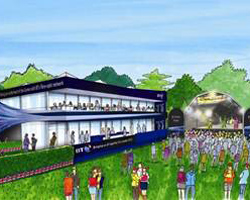 BT House is a two-story structure which will be open to the public from 27 July to 12 August at the Hyde Park London Live site. The site is one of three offering big screens, sports activities and music for free during the Olympics.
BT house will feature the outdoor BT Vision stage, a music area with performances from acts like Conor Maynard and Noisettes, as well as Stryder. Inside the house, BT customers will be able to make a free phone call and access a VIP relaxation area.
Visitors will also be able to win tickets to the Games by playing London 2012, the official video game of the Olympics.
Suzi Williams, group marketing and brand director at BT told Event: "There will be opportunities for people to do all the things you need to do when you're out and about, like charge your phone and get online - we'll fulfill our basic role in that way. There will also be a number of interactive exhibits and a comfortable space and we will continue the music and entertainment theme of London Live."
BT will bring past and present Olympians to the house every day for meet-and-greet sessions and medal celebrations. "We have a great relationship with team GB," said Williams. "It's all very well to watch the Olympics on screens and have some music, but to actually celebrate the medals with the athletes is one of the highlights of the Games."
BT is a sponsor and the official communications services partner of the Games.
The three London Live sites are a partnership between the Mayor of London, The Royal Parks and the London Borough of Tower Hamlets. Victoria Park will be the second London Live site during the Olympics and Trafalgar Square will be the site for the Paralympic Games.
For all the latest Olympic news, visit our dedicated Olympic channel.
For an in-depth profile of BT's event strategy, don't miss our Brandwatch feature in the next issue of Event magazine by subscribing here.