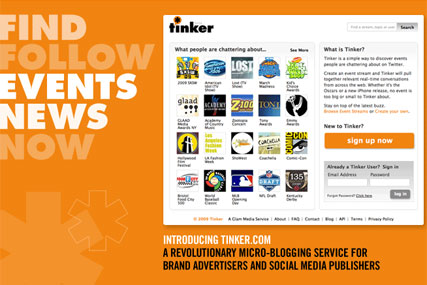 Tinker.com, launched last month in the US, will roll out in the UK over the next few months following a trial. The site aggregates real-time conversations on social networking sites Twitter, Facebook and FriendFeed and will be funded by advertising. No revenue-sharing deal with Twitter has been agreed.
Unlike the live search function on Twitter that shows the top 10 subjects of conversation, Tinker allows users to follow real-time conversations on Twitter by selecting areas of interest to follow.
Users and publishers will be able to create, post and share live Tinker streams on their social networking profiles, blogs or websites.
Ads will be sold by Glam Media UK's commercial team and will be placed on embedded widgets on the Tinker interface, while targeted InSkin and display ads will appear around conversations.
Sponsorship ads will feature around certain events. Brands will also be able to sponsor words on Tinker applications.