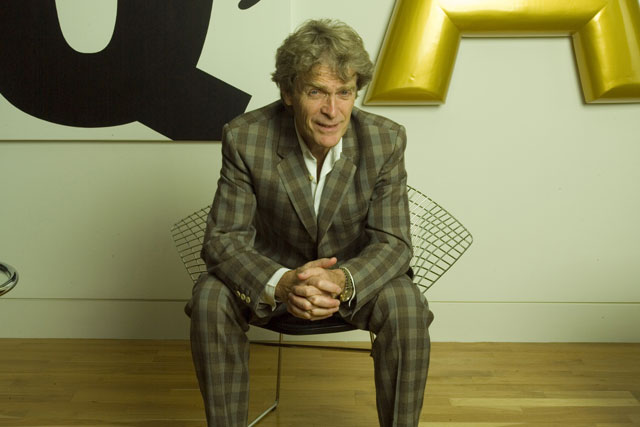 Jay Chiat could be forgiven for feeling bewildered were he to return to an advertising industry over which he exerted such an iconoclastic influence before his death in 2002.
Sir John Hegarty asserts that any-body who came up with one of the ideas with which Chiat is credited "should be taken out and shot".
Another creative chief, though, wishes he could have bought Chiat a case of wine from Hegarty's 125-acre vineyard in Languedoc as a thank-you present for devising such a brilliant concept.
And what exactly has provoked such a polarisation of opinion? Why, tissue meetings, of course.
Put simply, these are interim get-togethers at which agencies share their creative thoughts with clients. The aim is to ensure that the client is happy with the way the agency is interpreting the brief before fully worked-up ideas are presented.
But in his new book, Bartle Bogle Hegarty's worldwide creative director condemns tissue meetings as a sop to clients while encouraging creative work that's predictable and boring.
The irony is that, by introducing tissue meetings, Chiat, the pioneering founder of Chiat/Day in the US who came up with such legendary campaigns as "1984" for Apple, intended the reverse should be true. He reasoned that by drawing clients into the process, they would be emboldened to buy braver work.
The idea is reckoned to have crossed the Atlantic for the first time in the early 90s when the then Howell Henry Chaldecott Lury integrated it into the process that led to the development of its controversial campaign for Fuji, which addressed social issues such as racism and mental disability.
Steve Henry, then HHCL's creative chief, says: "We were very close to our early clients and the idea of tissue meetings appealed to us because we felt that by sharing our thoughts with them, we could push them to go much further."
Since then, tissue meetings have become commonplace, their popularity fuelled by a tough economic climate in which the stakes are too high for campaigns to risk failure.
Indeed, Dave Buonaguidi, Karmarma's creative director, argues that such meetings are a logical reaction at a time when no agency can claim to have all the answers and clients are entitled to know what they're getting for their money. He says: "If you were having a suit made or a new kitchen built, you'd expect to have a discussion about the early ideas with the tailor or the kitchen designer to make sure you were getting what you wanted. After all, you're paying for it."
However, Mark Given, the Heineken UK brands director, says clients must be clear about why a tissue meeting is being held. He asks: "Is it because they want help in the creative process or are they just being overbearing or trying to compensate for the brief?"
Some believe that Chiat's original raison d'etre for tissue meetings has become subverted. "There's a very real risk that they lead to dumbed-down creativity," a leading creative chief warns.
And Henry agrees. "I share Hegarty's frustration," he says. "The industry has become very risk-averse and it isn't challenging clients in the way that it should be. We introduced tissue meetings as a means of collaborating with them in order to get better work. Since then, the thinking behind tissue meetings has been largely misunderstood and misapplied."
Got a view? E-mail us at campaign@haymarket.com
CREATIVE - GERRY MOIRA, CHAIRMAN AND DIRECTOR OF CREATIVITY, EURO RSCG LONDON
"Tissue meetings have their pros and cons. But one thing about them is unarguable. They're a fact of life and, however much you rant and rave about them, they're not going to go away.
"As an industry, we've been using them for some years and it's hardly extraordinary. They are just as common in many other sectors from fashion to architecture.
"Personally, I've no problem with tissue meetings, which I think have been largely helpful. There's a danger we become too precious about such things - and that's not a good thing in today's business."
CLIENT - PAUL FRASER, MARKETING DIRECTOR, DAIRY CREST
"I've been at tissue meetings that have really helped produce better advertising and I've been at others where a good creative idea has been in danger of being destroyed.
"Of course, the client has to see the work at some stage but a lot of agencies show it too early and give the impression they're 'fishing' for ideas. We're not stupid and we know when something has been knocked up the previous night.
"Our voice needs to be heard - but it's also true we pay agencies to do a job we couldn't do anywhere near as well for ourselves."
INTERMEDIARY - DAVID WETHEY, CHAIRMAN, AGENCY ASSESSMENTS INTERNATIONAL
"John Hegarty is the main man but he's wrong to condemn tissue meetings. His career began in the 60s when great creatives told clients what to do and gave them one solution only. And most clients were in thrall of their agencies.
"What's more, the clients the agency met would be the decision-makers. So why would they have needed tissue meetings? But as cautious clients have become the majority, so micro-management has become institutionalised and pre-testing de rigeur.
"There's another reason why agencies sold and clients bought ideas in the glory days - there were far more big ideas in the quiver then."
CREATIVE - DAVE BUONAGUIDI, CREATIVE DIRECTOR, KARMARAMA
"The tissue meeting is absolutely essential. It ensures that you're going in the right direction and that you do the right thing.
"No clients can afford to fail, so they rely on us to make sure that doesn't happen. And because they pay us, it's our duty to them and our staff that we're accountable and we deliver what works.
"Too much emphasis has been put on creatives being the only people who can unlock the complex issues of any marketing problem. That's bullshit and an insult to all clients and anyone who works in an agency."