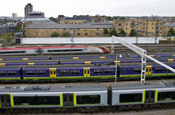 The outdoor company is inviting creative teams to design a bespoke ad for one of their clients to run on a 73m by 3m billboard located alongside the lines in and out of Euston station.

The winning team will each receive a luxury weekend for two in Paris and a free two-week campaign for their client.

Graham Fink, creative director at M&C Saatchi, said: "Posters are the most brutally simple of all media; in my opinion, the true test of any creative.

"And this is one mother of a poster - a chance to create the biggest, bestest idea. I'm scared."

Steve Cox, the marketing director of Titan Outdoor, said: "The first task for any media platform is to get the creative execution noticed by relevant consumers.

"This site can't fail to achieve this, providing a unique opportunity to showcase truly engaging work"

The train line connects to the North West, West Midlands, North Wales and Scotland and is seen by around 1.2 million people every two weeks.

The closing date for submission of artwork is 10 October.