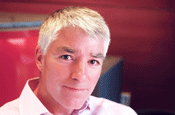 The new venture, TMW's first overseas office, will be led by Paul Dodds, a group account director at the direct marketing agency.
TMW already works for companies in the region, including Dubai Holding, for which it launched a new corporate website, and Jumeirah, a luxury hotel group based in Dubai. The agency also works close with the international brands Infiniti, the Financial Times and Nissan Europe.
Dodds said: "I'm relishing the challenge of this opportunity because I think we can bring something new and innovative to the region. We've chosen to adopt a different model, which means that much of the strategy and creative development will still be managed out of London, but now we'll have a local presence as well to help facilitate implementation and oversee project management on a daily basis with our clients. We think that this will give our clients the best of both worlds."
TMW is already looking to expand its presence further by seeking out more opportunities and accelerating its relationships within the region.
Richard Marshall, TMW's business development director, said: "We have a lot of relationship marketing knowledge and experience to offer global brands and we believe that the types of sophisticated campaigns that we create in the UK and Europe can be implemented in other markets around the world."