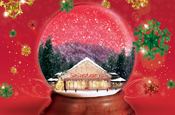 The campaign, which is called "spend and save", advises consumers to spread the costs of their Christmas treats, so that they won't have to do one big last minute shop.

The mailer is fronted by an image of a snow globe, with a Sainsbury's store situated inside.

Underneath the image a strapline says: "Cook up a storm this Christmas with Sainsbury's".

Concealed in the pack are a number of reward coupons, as well as tips designed to help consumers with their festivities.

The tips are linked to an image below, which depicts a table filled with Christmas food.

The campaign, to be sent to all Nectar cardholders, will be supported by a range of in-store activity.

Nicola Evans, TMW account director, said: "We wanted to evoke a traditional Christmas feeling and show that Sainsbury's is in a strong position to make this happen as it has quality food at fair prices - both the ingredients needed for a cracking Christmas."