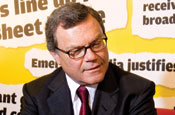 Following its rejection of WPP's latest offer, TNS has agreed with GfK to terminate their proposed merger, and has agreed that GfK pursue its own bid to finance an all-cash takeover of TNS instead. By pursuing a sale to GfK rather than a merger, TNS hopes to appease shareholders and head off WPP's takeover aspirations.
This morning WPP launched a hostile bid worth £1.08bn for TNS, following its tabling, last week, of a third unsolicited takeover of TNS.
However, TNS announced at noon today that it has "unanimously rejected" today's WPP offer, "which values each TNS share at substantially the same price" as last week's proposal.
"Shareholders are advised to take no action in response to WPP's latest unsolicited act and, in particular, not to complete any form of acceptance they receive with the WPP Offer document," TNS said.
A GfK statement said: "GfK is actively pursuing a proposal which would involve an alternative all-cash offer being made for TNS, with the involvement of an identified potential source of equity and equity related financing."
The statement continued: "While negotiations are at an early stage, GfK has received a strong indication of interest in this transaction. The form of consideration being considered is all cash, although the formal right to vary this is reserved."