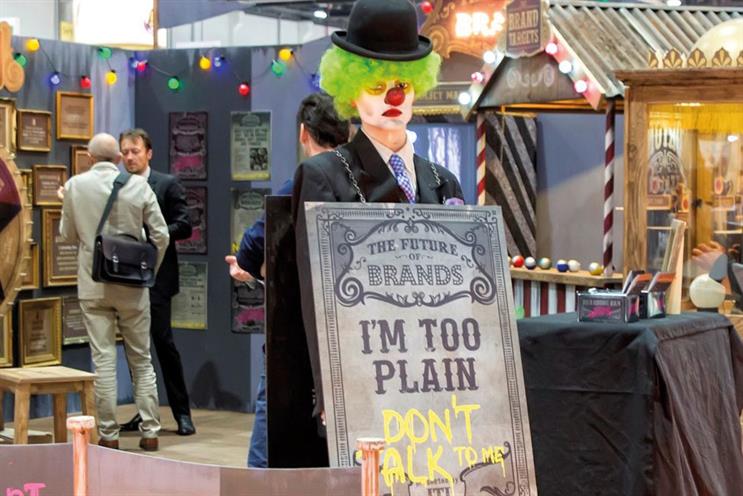 It was Don Draper's very first case: how to get smokers to ignore the mounting evidence that cigarettes caused cancer and learn to love Lucky Strike for its intangible brand qualities. But while the famous ads proclaiming Lucky Strike to be "toasted" have long seemed a relic of the distant past, its bullseye logo has remained one of the most recognisable visual symbols in the world of brands. That might be about to change. As of 21 May, all tobacco sold in England must come in the drab, brown, featureless packaging agreed by parliament two years ago. Cigarette branding is over.
But with other countries now considering following suit, the tobacco industry is not sitting back. Japan Tobacco International, owner of Benson & Hedges, Silk Cut and Hamlet, claims that it wants to ensure the spread of regulation is not just Big Tobacco's problem with a business-facing PR campaign that was launched in March at The International Food & Drink Event trade show in London.
"The future of brands" makes the case that the creep of regulation won't stop at fag packets: if brands don't stand up and act, then alcohol, soft drinks and confectionery could be next.
The jury, to some extent, remains out on plain tobacco packaging. In Australia, the first country to introduce it back in 2012, the government says the policy is achieving its aims of making cigarettes less appealing to consumers – especially teenagers – and increasing the effectiveness of health warnings. But the industry claims the only real impact has been to drive existing smokers towards cheaper brands and counterfeit products, which it says are harder to spot without branding.
"What we're doing is a wake-up call to the food-and-drink sector on how they are basically next in line for extreme regulations," Jonathan Duce, head of external communications at JTI, says. "At the very extreme end, that includes plain packaging." There are other measures JTI thinks curtail what should be basic rights for businesses to operate freely: taxes, health warnings, product restrictions, and advertising and promotional curbs.
Both the live exhibition stand, which is set to appear at other trade shows around the world, and the campaign's interactive website make use of an abandoned-circus theme with a touch of Tim Burton that demonstrates – not for the first time from the tobacco industry – that restrictions really can be the mother of creativity. The imagery is about highlighting the "chaotic" nature of regulation, Duce says.
The website is full of examples of real regulations that have either been proposed or are awaiting introduction, ranging from graphic health warnings for alcohol in Turkey to a similar rule for food high in fat, salt or sugar in Chile. In the UK, of course, businesses are gearing up for the soft-drinks industry levy, or "sugar tax", which has now been approved by parliament and will come into force in April next year. But does any of this really mean that chocolate bars could be following cigarettes into plain packaging?
"It starts with taxes and then it may move quickly into other regulatory measures," Duce says. "Because a lot of regulation is driven by emotion rather than precision, some well-meaning policy decisions may not have the effect that is intended."
Chris Arnold, founder of Creative Orchestra and author of Ethical Marketing & The New Consumer, says JTI's points should not be dismissed completely. "The danger of it is the bureaucrats – and the people who want to overprotect society – use it as an excuse to justify the next thing," he explains. "It is creep. If you look at how liberty gets lost in any society, it is always with creep."
But Arnold thinks taxes are both valid and effective: "If you look at cigarettes, they're massively taxed and the government has used tax as a way to deter cigarette smoking. They do know that pricing works, but still people continue to smoke if they want to."
There's another reason why Cadbury, Coca-Cola and Stella Artois probably don't need to panic just yet – public opinion. Whatever the rights and wrongs of plain tobacco packaging, it is widely supported: a study by Cancer Research UK in 2015 found 72% of the UK public in favour.
Deborah Arnott, chief executive of health charity Action on Smoking and Health, says that, as the leading cause of preventable premature death, tobacco is "different" from other products.
She also doubts that this campaign is a truly altruistic move by JTI.
"This isn't about the UK – JTI is trying to convince global food-and-drink companies to back their campaign to prevent plain 'standardised' cigarette packs from spreading around the world," Arnott says.
"There are governments lining up to implement plain packaging following the publication of the World Trade Organization ruling that it is in line with trade law and that no compensation is due. JTI is trying to bolt the stable door after the horse has bolted."
However, Duce points to a Public Health England report from December 2016 that floated the idea of plain packaging for alcohol. "Regulators are 'copy and pasting' tobacco-style regulations into other sectors without thinking through the implications for the creative industry," he insists.
Food and drink brands had better hope that Arnott is closer to the truth than Duce.