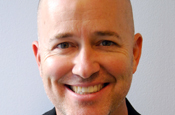 Tilford has been running his own creative consultancy, working for Crispin Porter & Bogusky in Boulder and Core in St Louis.

He has worked on projects including the rebranding of Nike Running, and digitial work for Gucci, Warrior Hockey and Lacrosse.

Tor Myhren, the executive vice-president and chief creative officer of Grey New York, said: "I've admired Todd's work for the past decade. He is an original thinker.

"He's a writer with a voice, which is rare these days. Not to mention he's the best designer I know, and continues to achieve mind-bending innovations in the digital space."

In 2005 and 2006, Tilford worked at BBDO New York as the executive creative director, design, reporting to David Lubars.

Before BBDO, he was a creative director at TM in Dallas, leading rebranding efforts for Subaru, Nortel, Macy's and Texas Instruments.