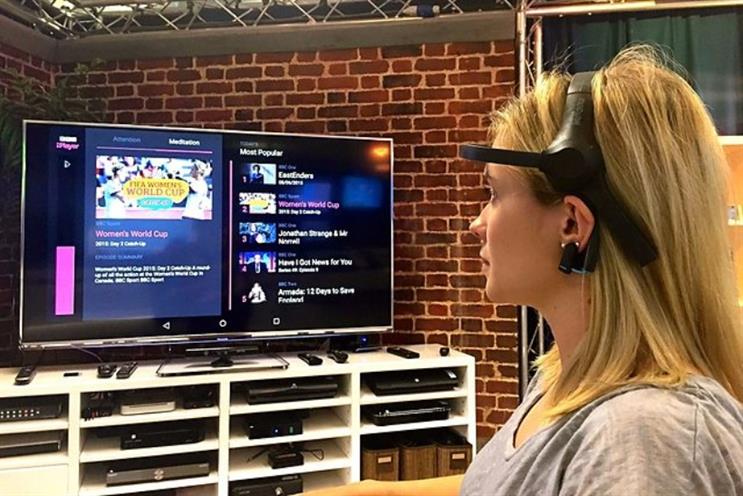 The corporation has partnered with UX studio This Place to build the prototype, which consists of an EEG headset to measure the viewer's brain activity, and the tweaked version of iPlayer.
The viewer dons the headset, looks at their TV and concentrates to launch the iPlayer app. They can choose whether to control the app either through 'meditation' or 'attention'.
Either choice results in iPlayer displaying a bar, which visualises how relaxed or alert the viewer is. iPlayer also displays the five most popular programme at that point time, highlighting each one for 10 seconds at a time. Viewers who want to select 'Horizon', for example, will need to concentrate for 10 seconds when the programme is highlighted. That will launch the programme.
The prototype is only being tested internally for now, and the system isn't flawless. Some users pointed out that by the time they had concentrated enough to launch their chosen programme, iPlayer had switched to something else.
Cyrus Saihan, head of business development at the BBC, said the prototype was just an experiment for now.
He added: "An important potential benefit that brainwave technology might offer is the ability to improve the accessibility of media content to people with disabilities.
"For example, people affected by motor-neurone disease or suffering locked-in-syndrome may increasingly be able to use brain-computer interfaces to get a better experience of digital and media services than they currently do, potentially opening up the online world of information and experiences that the rest of us now take for granted."
---
Check out the latest from our Thinkers