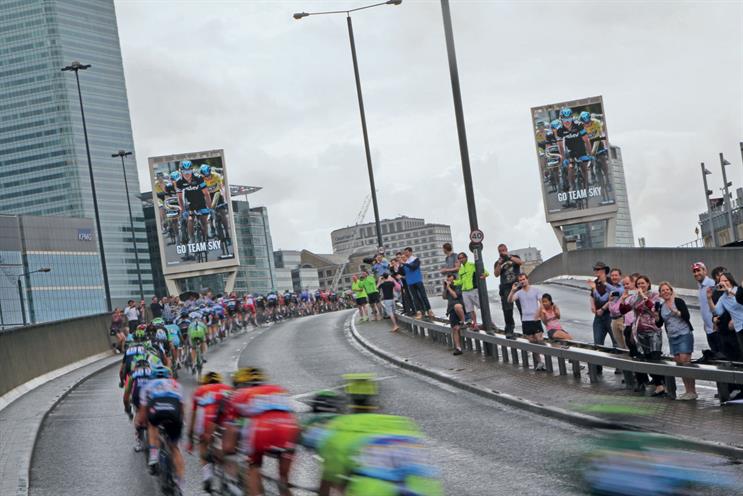 Digital out-of-home is going global – and advertisers are using it to showcase their most innovative work. In international cities, ever-more impressive displays are bringing vibrant messages to an audience of thousands in key public spaces.
The latest technology is being used to deliver targeted, unique experiences for individual consumers. And they're tapping into an increasingly connected world of smartphones, wearables, open-source data and the Internet of Things to provide a platform for awesome data-driven creative work.
Ocean has teamed up with Media Week to explore the world of DOOH – bringing together the most exciting examples from around the globe.
Where will the next 30 years take us?
---
Women's Aid, 'Look at Me' (London and Birmingham, UK)

Advertisers are making use of DOOH's po-tential for interactivity in increasingly adventurous ways – as in this instance, potentially the most successful earned media DOOH innovation of 2015 with 326 million coverage views.
This powerful campaign for the domestic violence charity Women's Aid, produced by WCRS, uses facial-recognition and gaze-tracking technology to measure the number of people viewing the billboard.
As the number increases, the image of a bruised woman gradually heals, showing that, by taking notice of domestic violence, we can eradicate it. As well as being used to introduce an interactive element to DOOH campaigns, gaze-tracking and facial recog­nition will increasingly be used to gather useful data.
---
Google, 'Androidify Yourself' (New York City, US)
The world's biggest digital display in Times Square proves that size still sells. In the
Big Apple's most iconic public space – an
environment dominated by advertising – it takes a lot to stand out.
There's a reason why people still queue for the IMAX to watch the latest blockbuster movie instead of catching it at home on Netflix: the sheer scale of it is an experience in its own right.
In a world where consumers are increasingly comfortable with screens, as HD smartphones and 4K TVs proliferate, the Times Square instal­lation stands out with its better-than-4K resolution on a display the size of a city block. Google's "Androidify Yourself" campaign added an interactive component, letting passers-by design their own Android mascot on a tablet – which then appeared on the screen above.
---
Samsung, San Miguel and Central Lechera Asturiana, Plaza del Callao (Madrid, Spain)
Madrid's Plaza del Callao – the busiest location in Spain – is dominated by seven full-motion digital screens to create Callao City Lights, reaching an audience of 113 million people a year. With digital screens proliferating, hubs such as Plaza del Callao, Piccadilly Circus and Times Square are becoming increasingly important for advertisers
and major cities alike.
For advertisers, they represent an opportunity to showcase their work on a grand scale, while combining with interactive and experiential opportunities to engage with members of the public, creating a sense of community. For the Spanish basketball team's Eurobasket triumph, Samsung, San Miguel and Central Lechera Asturiana chose Callao City Lights in Plaza del Callao as a platform to celebrate their win.
---
Sky, 'Tour de France' (London, UK)
Sometimes it's the simple things that DOOH can do that make it the world's most dynamic medium. A simple split screen tracked the progress of Team Sky in the peleton of the Tour de France; as they cycled past Canary Wharf through The Two Towers East digital screens, an ad for Team Sky was simultaneously served.
A UK-served ad viewed in more than 180 countries worldwide, with a global audience of more than 1.4 billion. A spot buy even Chris Locke would have been proud of.
---
Apolosophy, 'Blowing in the Wind' (Stockholm, Sweden)
My personal favourite, where a creative idea meets technology, location and environment. This haircare ad on Stockholm's underground metro proves that digital advertising doesn't just have to interact with people.
It uses ultrasonic sensors to track oncoming trains; when one enters the station, the model's hair on the screen is blown around as if by the breeze from the train.
With more devices being connected to the Internet of Things, DOOH will need to react to everything from passing vehicles to smart clothing to surprise and delight consumers.
---
British Airways, 'Magic of Flying' (London, UK)
The idea I wish I'd had – a campaign that hooks into the wealth of publicly available data, these London-based displays created by OgilvyOne have scooped a haul of awards.
Tapping into transponder data from passing flights (and weather-data to determine if the planes can be seen from the ground), the displays identify BA jets flying overhead.
With ever-more shared data coming online from public utilities, Internet of Things devices and tech-savvy consumers, there will be many opportunities for creative campaigns that tap into our data-driven world.
---
Hunter, 'London Fashion Week', The Grid (multiple locations, UK)
As DOOH spreads around the globe, it's being used to link locations together, with co-ordinated campaigns rolling out across networks of displays. One such example is Ocean's linked network of digital screens, The Grid, which was used to live-stream Hunter's London Fashion Week show to key UK cities.
A simulcast of the event was broadcast to displays in London, Birmingham, Manchester, Liverpool, Leeds and Glasgow, after which a co-ordinated campaign linked looks from the AW15 show with products that could be purchased immediately.
---
Pepsi Max, 'Unbelievable' (London, UK)
Pepsi's ingenious bus-shelter campaign uses augmented-reality technology to surprise commuters.
A screen displays a view of the street behind it, and the everyday goings-on are periodically interrupted by prowling tigers, flying saucers and rampaging tentacles.
It's a clever use of location and timing – with a captive audience waiting for the bus, it can afford to wait for people to let their guard down before shaking up their routine.
---
Coca-Cola, 'Happiness Creator Machine' (Singapore)
Coca-Cola's Happiness Creator Machine in Singapore marked the Lunar New Year by bringing together the tech-savvy young and the older generation.
Two machines were placed in locations frequented by the different demographics, each displaying a video feed from the other machine. When individuals in both locations touched the screen at the same time, they received a gift.
As well as using interactivity to create a sense of connection between passers-by, this installation demonstrates how DOOH can be combined with physical retail – for example, in vending machines – to deliver tangible rewards to the consumer.
---
Lexus, 'This is the New Lexus' (Sydney, Australia)
Motorists, like pedestrians, can be targeted with interactive messages – as the Lexus billboard shows. Using a device called the APN Outdoor Classifier, it can identify different makes of car passing by and address the drivers directly – encouraging them to swap their current ride for a Lexus.
Situated in aff­luent Australian transport hubs such as Sydney Airport, the displays demonstrate how DOOH can deliver carefully targeted messages using interactivity and location planning to address individual consumers directly.
Tim Bleakley is chief executive of Ocean