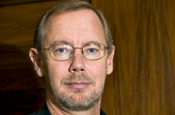 His departure follows the appointment of the former United London chairman Steve Henry (pictured) as executive creative director in May last year.
Henry joined above McTear and fellow joint creative director Danny Brooke-Taylor, who had co-headed the creative department after Trevor Beattie left to found Beattie McGuinness Bungay in May 2005.
McTear's move will be particularly unsettling for the agency's Sony PlayStation account, on which he has worked for the past four years.
He was involved in many of TBWA\London's most famous ads for PlayStation, including the launch campaign for the PSP and the 2004 Cannes Grand Prix-winning "mountain" spot for PlayStation 2. He most recently worked on the "this is living" launch campaign for the PlayStation 3.
McTear, a former priest, joined TBWA\London as deputy creative director in February 2003. After starting his career at Abbott Mead Vickers BBDO, he joined Bartle Bogle Hegarty in 1994 and with his partner, the Euro RSCG executive creative director Mark Hunter, created the "Twist" and "Bruce Lee" ads for Levi's.
A spokesman for TBWA\London confirmed that McTear had tendered his resignation, but declined to comment further. McTear did not return calls.