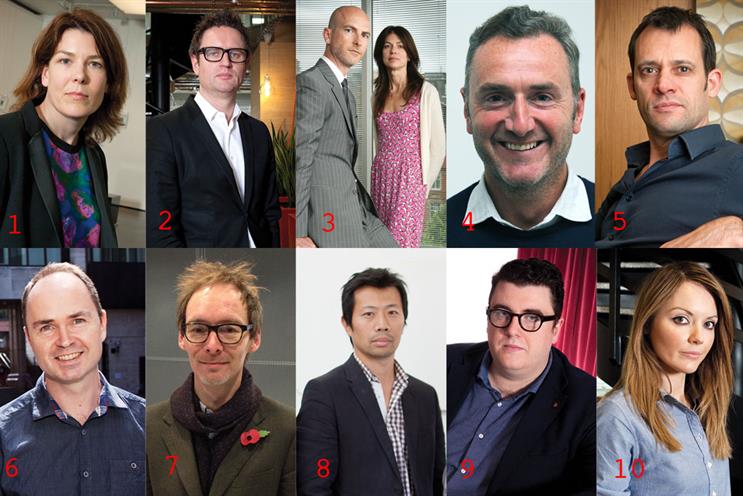 1. Lucy Jameson
The surfeit of senior planning talent created by the merger of Adam & Eve and DDB UK proved to be Grey London's gain. Jameson has played a key role in the transformation of the agency since joining from DDB UK in 2012. The robust strategy and insight provided by Jameson and her team has ensured Grey's creative resurgence has been accompanied by impressive results for its clients. All this hard work culminated in the agency being named IPA Effectiveness Company of the Year and Jameson ending Craig Mawdsley and Bridget Angear's three-year run at the top of this list.
2. David Golding
Golding has gone a considerable way to returning DDB to its rightful place as the spiritual home of planning. It's testament to his strategic prowess that Adam & Eve/DDB was awarded its second Grand Prix at this year's IPA Effectiveness Awards for Foster's "good call", which recorded the highest estimated return on investment for any beer campaign in the event's history. Golding has been here before, of course – having picked up a Grand Prix in 2012 for John Lewis.
3. Craig Mawdsley and Bridget Angear
Abbott Mead Vickers BBDO dominated the Marketing Society Excellence Awards and is the only agency to have won a gold at the IPA Effectiveness Awards every year since 2008. But it isn't just a heaving awards cabinet that makes Mawdsley and Angear worthy of another lofty position – the pair aren't afraid to challenge the industry when they think things aren't good enough. Mawdsley, a judge at this year's Cannes Creative Effectiveness Awards, made a powerful and compelling case for changes to the criteria, which he thought favoured short-term effects rather than long-term value.
4. Laurence Green
Green is credited as one of the industry's greats and his work at 101 has led to the agency stealthily picking up new business and producing consistently excellent work. Green also added his voice to the great planning debate with a piece in Campaign questioning the value of "real-time" advertising, which he argued compounded the drift of marketing from an art practised for the long-term health of a brand to a lopsided short-term science.
5. Richard Huntington
Huntington's loyalty and hard graft in helping turn Saatchi & Saatchi around (it now has twice the number of clients it did in 2012) was finally rewarded with the promotion to a group-wide role and the title of chief strategy officer across Saatchis, Outside Line and Saatchi & Saatchi X. While Lisa Bowcott, who he hired in January, has taken over the day-to-day running of the London agency's planning department, Huntington's influence remains profound.
6. Andy Nairn
Nairn is possibly as well-known for being one of the wittiest people on Twitter these days as he is for being the planning community's "king of effectiveness". With Lucky Generals, one of the most promising agencies around, beginning to gather a head of steam, we can only hope that the former MCBD executive planning director continues to find the time to keep us amused outside working hours.
7. Neil Godber
Godber was propelled into JWT's top planning role following the surprise departure of the impressive Tracey Follows. Filling her shoes would have challenged even the best planning brains, let alone a relative unknown, but Godber has quietly ensured that it has been business as usual. Godber's peers credit him as being "very smart" – let's hope this translates into a promotion to executive partner that he richly deserves.
8. Michael Lee
Lee has seized the mantle previously worn by Charles Vallance and wears it with aplomb. VCCP's easyJet campaign, masterminded by Lee, won the Grand Prix at the Marketing Society Excellence Awards as well as a silver at the IPA Effectiveness Awards. Such silverware vindicates his decision to return to VCCP as the executive planning director in 2012 after a two-year stint at Abbott Mead Vickers BBDO.
9. Chris Gallery and Katie Mackay
Gallery and Mackay, too, were forced into the frontline following the departure of Dylan Williams to take a global role at Publicis. While Williams' influence is just beginning to be felt at his new agency, Gallery and Mackay have been doing a big rebuilding job at Mother. Work for Ikea and Boots has particularly impressed.
10. Beth Bentley
In a relatively quiet year for Wieden & Kennedy (but whose thinking and creative product remain reassuringly strong), Bentley has proved to be a great new leader of its planning department. With the equally low-profile Paul Colman promoted to the new role of chief strategy officer, Bentley – a former Whitehall advisor and director of digital strategy and innovation at the shop – now has the opportunity to make her mark.