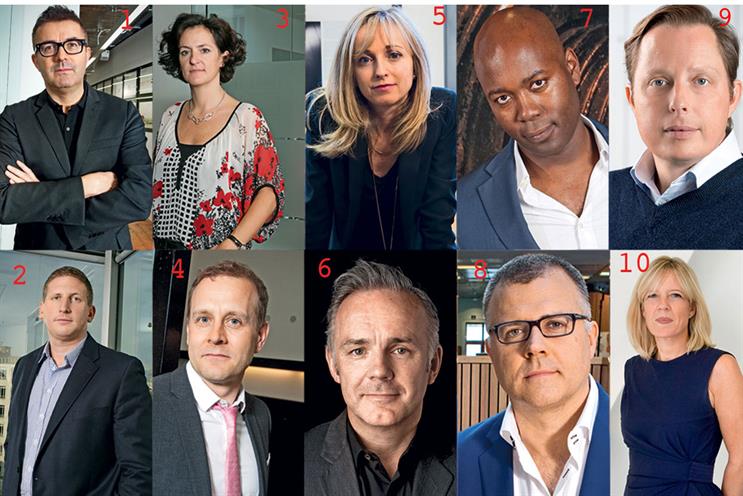 1. James Murphy
It has been a blinding year for Murphy, evident by Adam & Eve/DDB taking Campaign's Agency of the Year crown. The decision to hand over the day-to-day management of the shop to a younger team has freed Murphy to focus on client business, his relentless search for new accounts and producing the best work. The result of this speaks for itself. Murphy shows no sign of losing the zeal that he was famous for before Adam & Eve's merger with DDB.
2. Ian Pearman
The larger-than-life Pearman runs the UK's biggest agency on lines very similar to those of its founding fathers. Abbott Mead Vickers BBDO is generally regarded as a "good" place to work – a soft metric, maybe, but an important one in a sometimes brutal world. Aside from continuing the "look after each other" culture of David Abbott, Pearman has innovated with the founding of new specialisms within the company. AMV Red and Flare show that Pearman isn't afraid of the future but always has an eye on the agency's past.
3. Annette King
King's steady ascent up the Ogilvy greasy pole continued apace with her promotion from chief executive of OgilvyOne across EMEA to chief executive of the entire UK group. While the loss of British Airways will have been a personal blow, King's energy and can-do spirit will ensure that the shop bounces back. A brilliant leader, King's ability to party hard is equally renowned.
4. Chris Hirst
It's easy to see what a remarkable transformation Grey London has undergone over the past few years. But getting to a place where Grey is one of the most interesting and creative agencies in the UK was far from easy – and credit for this is due to Hirst. He has assembled a team of real talent around him and given them the confidence to throw off its historic FMCG shackles and create some of the best work in town. Hirst can look back with pride at having done what many thought impossible – making Grey sexy.
5. Sarah Golding
CHI & Partners was forced to draw on Golding's impressive reserves of strength this year when faced with a number of client reviews. First, Burger King; then Argos and Samsung; and, finally, Travelodge. The fact that it succeeded in keeping Argos (for which CHI created an even better campaign) and Samsung is testament to Golding's graft and loyalty to the agency – attributes it would do well to remember.
6. Neil Christie
Despite being bogged down by the troubled Tesco this year, Wieden & Kennedy's Christie has continued to lead one of the most respected agencies in town, in his own quiet way. Hardly the sort of showman some of his peers on this page manage to be, Christie nevertheless clearly has what it takes to run a very steady ship and get the best out of some very demanding clients.
7. Magnus Djaba
Robert Senior gave Djaba the keys to his kingdom this year with the promotion to UK chief executive of Saatchi & Saatchi Fallon Group – a job previously held by him. While Saatchis is once again deserving of its position as the most famous name in advertising with some pleasing new-business wins and decent work, all eyes are on what Djaba does to reinvigorate Fallon. A former managing director of the agency, he isn't one to take no for an answer, so expect more changes there soon.
8. Ben Fennell
With the end of the Publicis Groupe lock-in, Bartle Bogle Hegarty underwent a year of change in 2014 – not all of it necessarily for the better. But Fennell's continued presence at the helm provided stability and helped settle staff and clients. Showing that he has no intention of following Sirs John Hegarty and Nigel Bogle out the door, Fennell launched BBH Sport, run by his friend and England rugby legend Lawrence Dallaglio, and restructured and refreshed the ad agency, promoting the joint chief digital officer Mel Exon to managing director.
9. Paul Lawson
A sabbatical this year spent perfecting his golf swing won't have been much use to Lawson in terms of agency management, but it probably won't do him any harm when it comes to schmoozing with clients and industry movers and shakers. But it's his wicked sense of humour and sharp intelligence that keep Lawson top of his game and in this top ten once again this year. A bit more action on Leo Burnett's new-business front might be needed to guarantee a place in 2015, though.
10. Lisa Thomas
Keeping the M&C Saatchi group on its toes is no mean feat, particularly with another change in chief executive at the creative agency this year: Camilla Harrisson bowed out in the autumn. Thomas, though, is a fast mover and immediately installed Tom Bazeley, the co-founder of Lean Mean Fighting Machine, which she acquired earlier this year, in the big chair. It's testament to Thomas' tight grip on proceedings that the switch has been a smooth one (so far).