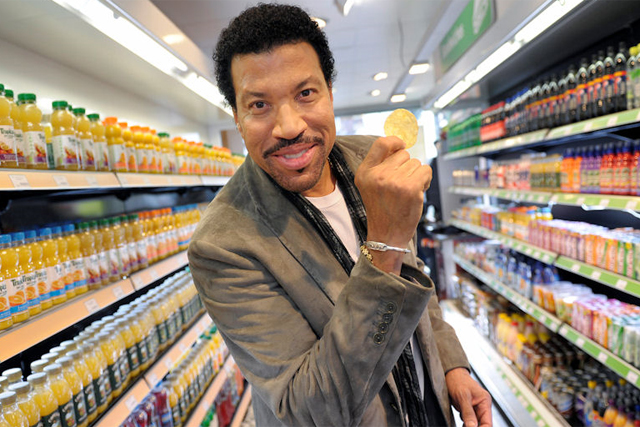 1. Walkers, Lionel Richie
Possibly the best and most imaginative celebrity to appear in Walkers' long history of comedic ads, Richie's crisp-inspired interpretation of his most famous schmaltzy song, 'Say You, Say Me,' shows that he is game for a laugh. A very smart campaign that saw Abbott Mead Vickers BBDO raise the Walkers creative bar – yet again.
2. The Sun, Terry Venables

The World Cup may have been massively disappointing but WCRS's patriotic and funny spot featuring Venables singing Elvis' 'If I Can Dream lifted – albeit briefly – the spirits.
3. Currys, C-3PO

In the price-obsessed world of electronics retail, the arrival of C-3PO and R2-D2 at a store to play with the equipment on offer showed the sector does not necessarily have to be about price promotions. M&C Saatchi also persuaded the original C-3PO, Anthony Daniels, to dust down the golden droid suit.
4. Adidas, Noel Gallagher
Everything about the star-studded "cantina" spot is both entertaining and surprising, but the highlight has to be the former Oasis member Gallagher stood at the bar next to his fellow Manc Ian Brown watching the proceedings unfold in Sid Lee's interpretation of the famous 'Star Wars' scene.
5. Carlsberg, Phil 'The Power' Taylor

Similar to The Sun's ad in attempting to gee-up England's piss-poor football team, this spot from Saatchi & Saatchi featured a who's who of English sporting heroes, most surprising of whom was darts master Taylor. The ad managed to cleverly tread a path between taking itself seriously and sending itself up.
6 John Smith's, Peter Kay

While not quite having the charms of its predecessors from 2002, Kay made a welcome return as the No Nonsense Man in TBWA\London's long-running campaign. Some executions were stronger than others: the highlight was the spot in which his wife presses him to reveal his fantasy woman, who turns out to be a woman from work.
7. Ikea, Jona Lewie

Lewie makes a brief cameo appearance in Mother's brilliant ad for Ikea's kitchen range but is very much the star of the spot. While the obscure Islington band Man Like Me do a creditable version of Lewie's hit 'You Will Always Find Me In The Kitchen At Parties', the real genius is Lewie's (and Mother's decision to use him and the track).
8. Ryanair, Robert Mugabe
Ryanair's ad depicting the African despot Mugabe as easyJet's "new head of punctuality" came about after newspaper reports claiming easyJet was less punctual than Air Zimbabwe. While easyJet didn't like the comparison and the ad sparked complaints to the Advertising Standards Authority, we think it's quite funny.
9. Nike, Homer Simpson

Wieden & Kennedy's epic "write the future" spot dramatically showed the difference between success and failure on the pitch. When Portugal are awarded a free kick, a goal could mean Cristiano Ronaldo having a giant statue unveiled in his honour in his home town, as well as the ultimate accolade – a guest-starring role alongside Homer.
10. Kronenbourg, Lemmy
Getting Lemmy to perform a slowed-down version of the speed-metal anthem 'Ace Of Spades' to demonstrate how Kronenbourg can be enjoyed at a slower pace than other continental lagers was a strong piece of creative thinking by Bartle Bogle Hegarty.