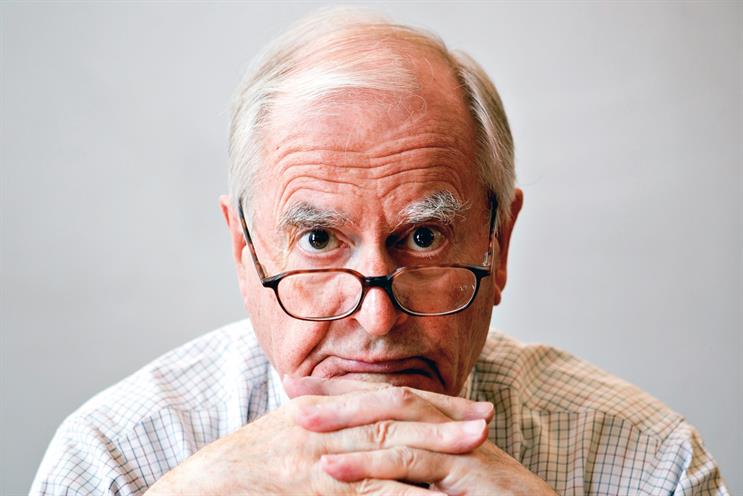 1. Dear Jeremy, What is the biggest misconception about the advertising industry?
That it's an industry. A defining characteristic of an industry is that it has shared goals. Advertising doesn't. The minor elements, agencies and media, both want advertising expenditure to grow and grow and grow.
Advertisers, without whom there would be no industry, don't. If they could be as rich and successful while spending nothing at all on advertising, they'd be delighted. And, anyway, advertisers aren't advertisers in the same way that plumbers are plumbers. Not a single person in the world would describe their primary occupation as "advertiser". People avail themselves of an activity called advertising to be more successful at selling soap and airline seats.
As older readers may remember, I've been making this deeply boring point since two-thirds of the way through the past century. It's had no effect at all – and I quite understand why. I'm not sure that calling an industry that manifestly isn't an industry an industry does anyone any great harm – least of all the industry that isn't. And since no-one, including me, has come up with a satisfactory alternative, I think I'll shut up now.
2. What's the most ridiculous phrase you have ever heard used in an ad pitch?
This really needs pictures as well as words, so you'll have to help me. There was a new, young account executive who was terrified of saying anything that he thought his client might not like to hear. And he'd been given the unenviable task of starting the presentation with a review of the previous three years' sales figures. They were plotted on a large cardboard chart mounted on an easel and they were not a pretty sight. For about nine months, the sales line was absolutely level and steady as a rock. And then, without warning, it dipped alarmingly… and went on dipping until it reached the present day.
James traced this line with a pointer while saying: "As you can see, for very nearly a year, sales showed extremely encouraging growth…" He now reached the point of the precipitous decline: "But have now levelled off."
3. Dear Jeremy, Should alcohol have the same warning labels as cigarettes?
Near Victoria station, there's a large sign addressed to motorists saying: "WEAK BRIDGE." A packet of peanuts tells you that "This packet may contain nuts". As you pass the airfield at Boscombe Down, you're warned: "Danger. Low-flying aircraft." Quite often, the purpose of warning signs and labels is not to affect anyone's behaviour but simply to be able to say in court: "The claimant was clearly warned, m'lud."
4. An agency chief writes: Dear Jeremy, I still drink at lunchtime and I still smoke. In the current climate, should I try to hide these traits from my colleagues and clients?
No. Flaunt them. It's far too soon to know if Nigel Farage has permanently reconfigured the European political landscape but he has already made the fag and the pint admirable again. If his 2015 manifesto leads with the reintroduction of smoking in pubs, he could go all the way.
5. **I received the following question in 2008 and drafted my answer immediately. Owing to pressure of events, however, I've only now found the space to include it. My apologies to the anonymous correspondent.** What do you think of the name Adam & Eve for a start-up? And, probably more importantly, are they talking out of their arses with their offer?
In my opinion, Adam & Eve is an inspired name for a new agency and virtually guarantees its success. I foresee it building its business and its creative reputation almost immediately. It wouldn't surprise me to see it becoming such a desirable brand that, within five or six years, say, it became part of a highly beneficial merger with a more established brand.
PS. Mature reflection suggests that all the above would also have been true had the new agency simply been called after its able founders.
6. My new-business director says we need to get into legal highs if we want to get to the movers and shakers in marketing. You were around when cannabis was the drug of choice and you've observed the great ads produced when speed, LSD, ecstasy, cocaine and ket had their day, so what's the downside?
I'm sorry to disappoint you. If I was, indeed, around when great ads were being produced under the influence of cannabis, speed, cocaine and so on, it all passed me by. After my time, perhaps: most things were. But I do remember client lunches at the Connaught when, after a gin and tonic or two and a decent bottle of claret, the sommelier would trundle round with a massive liqueur trolley. Come to think of it, though, the great ads were mainly produced between ten o'clock and 11.30 when the Coach & Horses opened. The Connaught contingent didn't write them; they just sold them in the afternoon.
7. After ten years in business, our agency has done quite well and given me and my partners a good living, but I'm worried that we're being upstaged by new start-ups in our own field and by specialists in social media, mobile and the rest. Should we relaunch? Apparently, Next used to be Hepworth and River Island was once Chelsea Girl – has any ad agency reincarnated like they've done?
Your question illustrates why some senior client companies still regard ad agencies as little more than cosmeticians.

"Sorry about the sales figures, Brendan. As agreed, we've conducted an in-depth, no-holds-barred, warts-and-all, bottom-up marketing review and come up with a radical new plan. Our conclusion is that there's nothing intrinsically wrong with your product – you're just being upstaged by some of these new start-ups, resulting in what we here at the agency call reputational deficiency. So we're recommending you commission a new pack design incorporating a new sans serif iteration of the brand name, recruit what we here at the agency call brand plenipotentiaries to dominate social media, and then stage a mega-profile trade relaunch at The Shard with Lady Gaga and David Attenborough."
You've invested ten years and a lot of hard work in your own brand. It has done quite well, so it will have acquired a reputation. Change its name and you'll start again – I was going to say from scratch. But it won't be from scratch, actually, it will be far worse than that. You'll be universally known as The Agency That Was Formerly Called GBH But Didn't Quite Make It So Was Stupid Enough To Change Its Name To GumDropz In The Pathetic Belief That Clients Would Be Taken In.
As George Safford Parker said in 1888: "Make something better and people will buy it." You never know: it could work for you.
8. The other day, I noticed our managing director picking up litter outside our front door. Is this OCD, OTT or just odd?
None of the above. It's admirable. Your managing director clearly knows about brands. He knows that the smallest of gravy stains on a restaurant menu may be enough to lose a customer for life. He knows that one misspelt name on a PowerPoint slide may be enough to get you bumped off that shortlist. He knows that discarded Pret napkins can suggest careless company custodians.
If he's as scrupulous about your work for clients as he is about doorstep litter, he must be running an excellent agency.
It wouldn't surprise me if he was a she.
9. During the pre-Christmas party season, most of the people I met talked about themselves relentlessly and almost never did I hear: 'That's enough about me, now what about you?' What am I doing wrong?
The original New Yorker version has the elderly sugar daddy at a dinner table with the chorus girl. And the sugar daddy is saying: "Now that's enough about me, let's talk about you. Tell me – what do you really think about me?" I think you'll find that more people are more likely to want to talk about you if you're in some way interesting. Try it, anyway.
10. Our super-premium tequila brand is sponsoring a band and part of the deal is that we provide a crate of product for their dressing room while on global tour. I'm scheduled for a VIP access-all-areas meet-and-greet when they come to Liverpool and it would help if I knew some of the jargon – where does the term 'rider' come from? And am I being taken for one?
I'm afraid you've written to the wrong column.