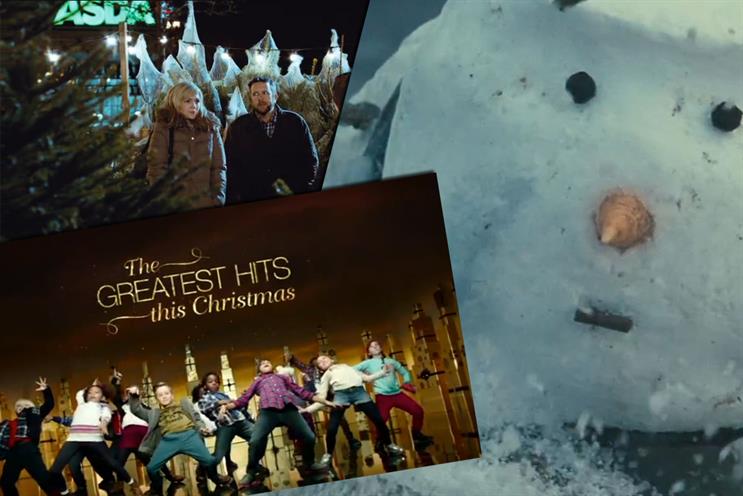 The Netmums Christmas study incorporates the views of 1,200 mums in the UK at the start of the all important festive trading period, which for some on the high street can be responsible for up to 50% of annual sales.

John Lewis' position at the top of the Netmums poll is an early indication that Adam & Eve/DDB's Christmas spot has managed to capture the national consciousness again this year, following its highly acclaimed and multi-award winning 'The Long Wait' ad of 2011.
Many of this year's most popular festive ads, including Morrisons (4) and Aldi (5) highlight a trend away from images of extravagance and glamour, towards reassuring and heart-warming vignettes of family life during this time of austerity for many.
The mood has perhaps been captured most obviously in Bartle Bogle Hegarty's Waitrose ad (8), which has caused controversy in itself after being viewed as an indirect swipe by those close to its retail sibling John Lewis.
Meanwhile, the popularity of Asda's ad with mums, which up to today has received 191 complaints of "sexism" to the Advertising Standards Authority (ASA), will be welcome support for Saatchi & Saatchi's creative as it awaits the watchdog's ruling.
The Netmums study, launched exclusively with Campaign/Brand Republic, also found that fewer than one in ten (9%) mums polled believed the ads were 'sexist', with three in five (61%) claiming the ads reflected real life where mothers 'do most of the Christmas preparation'.
Sitting outside the Top 10 is Sainsbury's campaign centred around the small events and moments that lead up to 25 December, that will feature 14 different ads by Christmas Day.
The poll suggests the TV campaign, 'Christmas Days at Sainsbury's', created by Abbott Mead Vickers BBDO and launched on 13 November, has some way to go to resonate with mums during the important Christmas trading period.
Christmas ads becoming part of the festive countdown
Retailers TV ads are reported to be evolving into a welcome part of the countdown to Christmas, the study suggest. Almost nine in ten (83%) families say they look forward to big-name firms screening their seasonal ads - with over half (55%) claiming they get the whole family into the Christmas spirit.
The study found a quarter of families (23%) get gift ideas from the festive ads while one in five admitting they changed where they buy their Christmas presents according to their favourite ad.
When it comes to festive food, almost a third of mums claim the ads influence where they shop, with 7% saying the screenings definitely changed their minds while a further 22% admitted they ads 'may' sway them.
Asked what made the perfect Christmas commercial for them, almost half (47%) of the mums polled said they wanted ads which featured 'lots of children' while 44% opted for snapshots about real families' special moments. A further 44% said they preferred ads with well-known songs, with 30% buying music just because it had featured on a Christmas advert.
Netmums founder Siobhan Freegard said: "For millions of families, the first screening of Xmas ads now marks the start of the Christmas countdown. Families love the festive feeling the ads create.
"The annual battle of the ads is getting bigger each year and becoming a national event. Although John Lewis is the winner again this year, the competition are closing in with popular efforts from smaller stores including Aldi – which proves it isn't about budget but about how it makes mums and families feel inside.
"Mums also said they enjoyed the Asda and Morrisons ads showing they understand the dynamics of family life and how most families really run behind closed doors
"A retailer who gets their festive ad right will ensure families warm to them and spend with them long after the festive decorations have been taken down."
Founded in 2000, Netmums claims to be the UK's largest women's website.
Netmums Top 10 Christmas ads of 2012
1. John Lewis, Adam & Eve/DDB

2. Asda, Saatchi & Saatchi
3. M&S, Rainey Kelly Campbell Roalfe/Y&R
4. Morrisons, DLKW Lowe
5. Aldi, McCann Erickson Manchester
6. Debenhams, JWT London
7. Boots, Mother
8. Waitrose, Bartle Bogle Hegarty
9. Tesco, Wieden & Kennedy
10. Matalan, Bartle Bogle Hegarty
(11. Sainsbury's, AMV BBDO)
Follow @DurraniMix