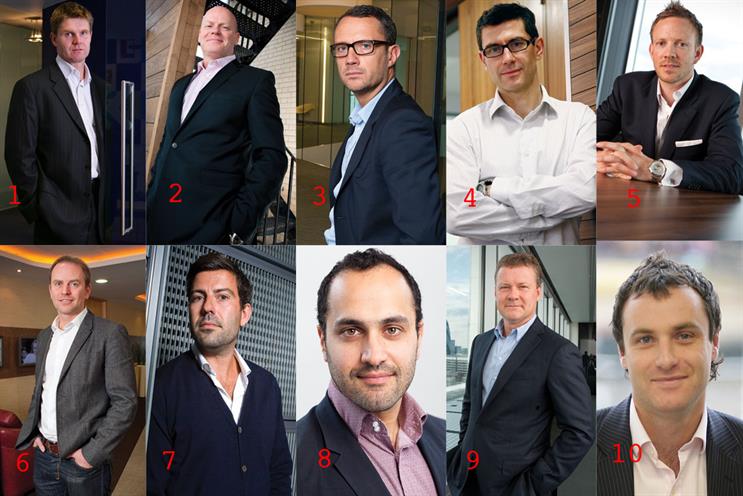 1. John Litster
It was with a heavy heart that Litster became the managing director of BSkyB at the start of the year, following the tragic death of Nick Milligan in 2013. To end the year with continued growth of more than £800 million in ad revenues, and agencies praising the culture and dynamism of the Sky Media team, is remarkable. Litster, who has been with the company since 1995, would be the first to point to a team effort, with notable support from both Jeremy Tester and Jamie West. But the buck has to stop somewhere, and Litster has proved to be more than capable.
2. Mike Gordon
Radio continues to defy the doom-mongers and, as the chief commercial officer of the biggest commercial player, Gordon continues to set the pace at Global Radio. Collaboration and innovation have helped drive the company to its best year yet, generating £230 million in revenue, the bulk of which can be credited to Gordon's national sales team. In a world where the scope of radio is expanding, Global and Gordon are embracing the opportunities to forge new partnerships.
3. David Pemsel
The rise of the former adland suit to deputy chief executive at The Guardian speaks volumes. Since joining in 2011, he has quickly won the hearts and minds of his Kings Place colleagues and hired well, bringing in leaders including Anna Watkins and Nick Hewat. Pemsel goes into 2015 looking to leverage Guardian Membership and lead the news brand's ambitious plans overseas.
4. Steve Hatch
Hatch has made his mark during his first year as the UK managing director of Facebook. Commercial partners talk of new attempts to collaborate and facilitate, while the focus on video has given something for the former MEC chief executive to really get behind. More than half of the social network's revenues now come from mobile and Hatch expects to see a 40 per cent hike in total revenues to more than £520 million in 2014. He has become the human face of what remains a US-led and, at times, contentious company.
5. Nigel Clarkson
We know from his outdoor days that Clarkson is the consummate commercial executive – charming and connected – but he surprised a few in 2014 by proving to be an insightful thought leader as well. Clarkson has grown into his commercial director role – not just as ambassador for Weve but for the wider mobile sector.
6. Kelly Williams
Williams has been the quiet workhorse at ITV for three-and-a-half years. As the broadcaster's group commercial sales director, 2014 represents his strongest year yet with the highest ad growth in four years of about 5 per cent. He starts 2015 with a new challenge after being thrust into the hotseat as the managing director of commercial following Fru Hazlitt's surprise exit in November.
7. Jonathan Allan
Allan continues to lead a shift in commercial culture as Channel 4's sales director. Playing to the channel's public-service and commercial remit, the "born risky" broadcaster continues to offer flexible solutions while taking a strong stance in trading deals. Its role as the launch partner for this year's John Lewis Christmas ad underlines its creative credentials, while innovation includes making first-party data from half the young adults in the UK available for programmatic trading in 2015.
8. Dara Nasr
Nasr stepped up as Twitter's sales director in 2014 after Bruce Daisley's promotion to managing director. Revenues from the UK are believed to have almost doubled this year to nearly £100 million and his London team has led some of Twitter's most innovative initiatives around the World Cup and The Brits. Nasr clearly benefits from the strong support of Daisley and nurtures an insatiable enthusiasm for the media business.
9. Paul Hayes
Much has changed since the managing director of commercial at News UK admitted that if the paywalls for The Times and The Sunday Times didn't work, he would be "in the shit". Hayes regrets saying that now but feels some vindication as, nearly five years later, Times Newspapers posted its first profit in 13 years in 2014. Debates rage about the price the £1.7 million profit has come at – not least, a smaller sales team – but Hayes, flanked by the commercial director, Dominic Carter, has been a rock at the company and forged a future based on the value of great content.
10. Chris Forrester
Forrester is emerging as an effective and considered leader at outdoor's challenger brand. During a time of rapid technological change, Primesight's commercial director continues to talk up the sector as a whole through strong thought-leadership. He runs an 85-strong team with offices in London, Birmingham, Manchester and Scotland, and is on target to post 2 per cent growth in 2014. His operation is known to be dynamic, flexible and easy to work with.