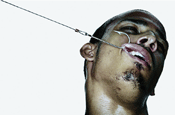 Internet and TV ad complaints on rise

1. Government anti-smoking campaign

Advertiser:
Department of Health


Agency:
Miles Calcraft Briginshaw Duffy
Complaints:
774
Decision:
Upheld
A hard-hitting, multimedia campaign by the Department of Health, designed to show smokers the controlling nature of their addiction. Poster ads generated the most complaints, with objections that they could frighten and distress children.

2. Trident chewing-gum

Advertiser:
Trebor Bassett Services t/a Cadbury
Agency:
JWT
Complaints:
519
Decision:
Upheld
This notorious 'mastication for the nation' ad, which took Campaign's 2007 Turkey of the Year award, used humour based on Caribbean accents. The ASA said that although the ads did not incite racial intolerance or hatred, they unintentionally caused deep offence.
3. Rustlers burgers and chicken tikka naan


Advertiser:
Kepak UK t/a Rustlers
Agency:
Chemistry
Complaints:
219
Decision:
Upheld
Two TV spots attracted complaints they were sexist, demeaning to women and contained undertones of sexual abuse. The ASA rejected all of these, but said the ads should not have been shown in slots likely to be watched by children.
4. MFI
Advertiser:
MFI Retail
Agency:
M&C Saatchi
Complaints:
217 complaints
Decision:
Upheld
This TV campaign featured arguments between family members, which turn out to be in an MFI store. The ASA rejected most of the complaints, but said one of the ads, where a woman slaps her husband for leaving the toilet seat up, was likely to cause offence, and could be seen to condone violence.
5. Quorn
Advertiser:
Marlow Foods
Agency:
Publicis
Complaints:
181
Decision:
Not upheld
A number of complaints referred to the "touch my food, feel my fork" strapline, which was seen as threat of violence. Others said the ad could encourage children to attack each other. The ASA said the ad was a light-hearted portrayal of family life, and there was no violence in it.

6. Oasis
Advertiser:
Coca-Cola Great Britain
Agency:
n/a
Complaints:
180
Decision:
Not upheld
Viewers complained about this ad, which depicted the death of a wildebeest at the hands of a crocodile. But the ASA said the ad was likely to be seen as a light-hearted spoof of nature documentaries, and pointed out the lack of graphic imagery.
7. British Heart Foundation
Advertiser:
British Heart Foundation
Agency:
Farm
Complaints:
122
Decision:
Not upheld
This poster ad featured a man and women cuddling. The man was naked except for a swimming hat and goggles. The ASA rejected complaints about the ad being offensive, because the man's genitals were covered.
8. SMA Progress follow-on milk
Advertiser:
John Wyeth & Brother t/a SMA Nutrition
Agency:
Publicis
Complaints:
109
Decision:
Not upheld
The ad featured a dad and his young baby. Viewers challenged whether the ad was misleading because the ad was for follow-on formula for babies over six months' old, and might discourage breast-feeding. The ASA said the ad made clear that the formula was for older children.

9. Vegetarianism
Advertiser:
People for the Ethical Treatment of Animals (PETA)
Agency:
n/a
Complaints:
68
Decision:
Not upheld
This poster stated that "feeding kids meat is child abuse". Complainants said the ad was irresponsible because it encouraged parents to withdraw meat from their children without replacing the nutrients it provides. Others said it trivialised child abuse. The ASA rejected both complaints.
10. The Sun

Advertiser:
News Group Newspapers t/a The Sun
Agency:
n/a
Complaints:
56
Decision:
Not upheld
A number of people complained about this poster, which appeared on busses, showing the naked top half of a woman with two enlarged 10p pieces covering her breasts. The ASA ruled the ad was not overtly sexual, and could not reasonably be argued to be pornographic.