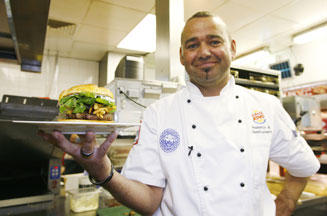 It is safe to say that at this time last year, few would have predicted the depth and breadth of the economic recession now facing the industry. 2008 has proved challenging, as marketers have grappled with weakened consumer confidence.
As always, though, one brand's loss was another's opportunity. Fast-food brands in particular have reported strong profits, while supermarkets have buoyed the struggling press market with endless ads using the bottom line as their battleground.
For some brands, notably British Airways, which suffered from the abysmal launch of Heathrow Terminal 5, and Woolworths, which went into administration, 2008 will be an annus horribilis best forgotten. From Barack Obama's historic US election victory to Northern Rock's collapse, 2008 was a year of extremes.
The economy: Credit crunch fatigue
2008 was the year that Sir Martin Sorrell's much-quoted 'bath-shaped recovery' became a distant dream. The collapse of the US sub-prime mortgage market and the subsequent fall-out in the global financial markets has undoubtedly had a devastating impact both on the nation's mood and numerous companies' bottom lines.
While economists have criticised the media for its negative agenda, and some have accused companies of using the downturn to mask fundamental weakness in their internal business strategies, there is no doubt that Britain is now facing up to the reality of a recession.
After the collapse of Northern Rock, bankers quickly became public enemy number one - presenting a huge marketing challenge for finance brands as sales of personal safes soared, and consumers placed more trust in their mattresses than the nation's biggest financial institutions.
For a nation uniquely obsessed with property, plummeting values have had an enormously destabilising influence on consumer confidence. The slowdown in property advertising has particularly affected the local press market, with newspapers making major cutbacks.
The Olympics: Britain goes for gold
Whether Tessa Jowell was misquoted as saying that London would not have bid for the 2012 Olympics if the subsequent meltdown in the economy had been predicted is irrelevant - the damage was done. But this summer was all about Team GB, the UK's most successful Olympic team in a century. The plethora of medals and inspiring stories of the winners provided a much-needed reminder of the joy of victory.
Supermarket price wars: Cheaper than cheap
The rise of super-discounted supermarkets Aldi and Lidl has put the major retailers on their toes. Even Marks & Spencer has got in on the value act with its £10 'Dine in for two' promotion. Moreover, if imitation is the sincerest form of flattery, Waitrose's decision to introduce its own 'meal for £10' was high praise indeed.
Meanwhile Tesco, Asda and Morrisons battled it out with value messages and fierce price promotions.
The run-up to Christmas has been particularly cut-throat, with retailers including Debenhams, House of Fraser and Marks & Spencer holding flash sales with hefty discounts. Both MFI and Woolworths, the latter traditionally making 80% of its profits in the six weeks prior to Christmas, went into ad-ministration.
Hovis' epic ad: Bread winner
The sacrifice of brand value on the altar of price promotion has not been uniform. Hovis celebrated its 122nd birthday with an epic 122-second TV commercial capturing every year of its existence through British history. In the ad, by MCBD, a boy dashes through the ages to deliver a loaf of bread to his mother. It bears the strapline 'As good today as it's always been', and was part of a £15m campaign, which quickly captured consumer attention. The ad was one of the longest in British TV history.
Regulation: Adland in the corner
Light-touch regulation continued to go out of fashion as alcohol, HFSS food and even car marketers faced unprecedented pressure to curb their marketing activity. While alcohol advertisers narrowly avoided a 9pm watershed, the focus on promoting responsible consumption in the face of 'binge-drinking Britain' continued.
The US presidential election: Text appeal
No review of 2008 would be complete without reference to the US presidential election. Dubbed the 'YouTube election', it was fought, debated, won and declared online. Online newswire, Slate, called the election a full 90 minutes before the first of the mainstream television networks. Obama won decisively with more than 350 electoral votes and 51% of the popular vote, as US citizens opted for change over experience in droves. The junior senator galvanised a host of new and young voters. When Obama's campaign sent an SMS to supporters on victory night that read, 'All of this happened because of you', the impact of new media on his historic victory was cemented.
Media: Staying in - the new going out
While agencies reported that TV advertising rates were languishing at prices last seen in 1992, both ITV and Channel 4 shed jobs, but not viewers. ITV1's flagship talent show The X Factor regularly outstripped its BBC rival Strictly Come Dancing with viewing figures of more than 12m and star guests such as Britney Spears. Elsewhere, home entertainment was on the rise, with record sales of DVDs and video games as money-conscious consumers battened down the hatches and stayed at home. ABBA-based musical feature Mamma Mia! sank Titanic, scooping the biggest-selling DVD and highest-grossing film records of all time.
Terminal 5: Style over substance
The most over-hyped and under-delivered launch of the year was the much-publicised opening of Heathrow Terminal 5, which became a PR disaster for British Airways. The £4.3bn building was beset with problems including long waits, disappearing luggage and a raft of cancelled flights. News crews camped out at the terminal 24/7 to cover consumers' ruined holidays, while headlines declared the launch a complete failure. A campaign to persuade consumers that 'Terminal 5 is working' quickly followed, but the damage was already done.
Facebook fatigue: Poked by strangers, avoided by ads
While new business executives have turned pal-poaching into an art form, senior marketers have expressed concern over ads on the site. Procter & Gamble's US-based head of marketing, Ted McConnell, said companies should not advertise on such sites, as social networks have no right to profit from their customers' conversations.
Fast food: Comfort-food renaissance
The glow returned to McDonald's golden arches as the UK led the fast-food brand's European revival. Innovation, longer open-ing hours and price promotions such as the 99p menu all helped it rally. The chain also forged ahead with reductions in salt levels, while an open approach to marketing paid dividends too. Elsewhere, Burger King's £95 Kobe beef concoction scooped a mount-ain of press coverage, though Pizza Hut's temporary name switch to Pasta Hut failed to ignite the same attention.