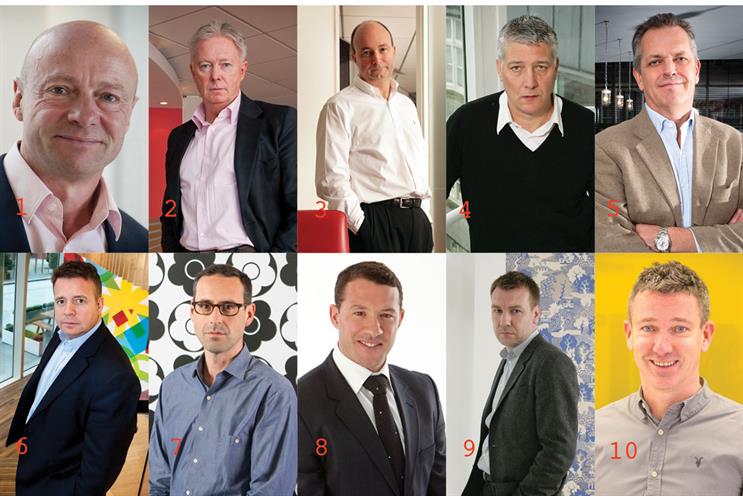 1. Mark Collins
Collins remains the industry's most significant media buyer following the collapse of the Publicis/Omnicom merger. The Group M operation that he spearheads still controls at least a third of all the UK's trackable media spend. He starts 2015 with notable influence over the commercial TV sector, with Viacom's newly owned Channel 5 £50 million down after a withdrawal from Omnicom, and Channel 4's two-year airtime deal up for renewal. Both sides will be hoping to avoid a repeat of the costly public standoff experienced two years earlier. Game on.
2. Chris Locke
By any measure, the enduring success of the veteran Locke at Starcom MediaVest Group is something to behold. The group trading director expanded his remit to take on the duties of managing director of VivaKi in 2014. He has boosted the buying clout of the group by centralising the business' out-of-home and barter functions, and is tasked with fully integrating Walker Media's offering in 2015. The ever-bashful Locke says: "I wouldn't say I was the best buyer in the UK, but I'm in the top one."
3. John Overend
The managing director of OPera at Omnicom Media Group is well-regarded for being a highly capable, savvy operator. Preferring to keep a lower profile than some of his peers, he remains an effective, if stealth-like, force. Overend is a close confidant of Philippa Brown and the gatekeeper for the group's spend. The power he wields was highlighted in 2014 after Campaign revealed the group decision to move £50 million out of Channel 5 and into ITV.
4. Alan Brydon
The elder statesman of Havas Media continues to defy the adage about old dogs and new tricks. In 2014, Brydon was given wider group responsibilities that saw him take on all of Arena's trading duties too and become the first leader of Havas Media Group's new buying offering. A year of firsts continued when Brydon made his debut in Cannes. Needless to say, the smooth operator found the talk of best practices, the Riviera sun and the Carlton Terrace most agreeable.
5. Jon Horrocks
Walker Media's managing partner is another old hand able to remind us to value the past while embracing the future. While the market has seen agency-deal-led consolidation, he has retained a distinctive style to generating client-driven, value-rich solutions. The chief executive, Simon Davis, notes that one of Horrocks' key attributes is his ability to build relationships with people at several levels, eschewing the temptation in seasoned hands to adopt a hierarchical approach. 2015 will be a big one for Horrocks as the agency becomes increasingly aligned with Publicis Groupe.
6. Dominic Williams
Tenacious and sharp, Williams' quick wit makes for a lively trading season. His role and influence expanded this year to include all TV and OOH buying for the first time, as well as press, radio and digital. Williams' new head of trading role at Amplifi means that he is more likely to have to embarrass himself on the fairways. He usurps Azon Howie on our list, who has announced that he is leaving Dentsu Aegis Network to join Omnicom Media Group. Williams will take on some of his responsibilities.
7. Chris Daines
Daines is a new name in this year's list, having assumed the duties of Paul Rowlinson as the head of Mindshare's trading function, Exchange, last year. He is responsible for all of the agency's paid media channels, including paid search, and is known for being a calm and measured presence for clients and staff alike. Daines has developed an active outreach programme with all the main media owners, based on the spirit of better collaboration and unearthing joint objectives.
8. John Maloney
Maloney has grown into his role as the head of investment at Maxus, proving to be popular among senior media owners. He is credited as a dependable and solid buyer who has provided a good foundation on which Maxus' buying clout has ballooned. The momentum behind the agency, which has rocketed into the top-seven spenders with billings in excess of £450 million, means that Maloney takes the place of MediaCom's perennial performer Phil Hall this year.
9. Christian Byron
In contrast to the noisy ones on this list, Byron is an unsung hero but, behind closed doors, regularly cited as OMD's most valuable player by Dan Clays, the managing director. Byron's deep understanding of the market ensures that the newly promoted head of investment is highly regarded by clients. He continues to lead his team of 100 from the front and undertook a full departmental restructure this year.
10. John Heather
Heather played a more pivotal role at ZenithOptimedia this year as Chris Hayward recovered from an injury. Working in close partnership with the head of display, Dave Mulrenan, he brings a blended skillset for the new world of media. Heather is credited internally for ensuring 90 traders are digitally equipped and their activity supports a wider agency ethos of building seamless customer journeys and brand experiences.