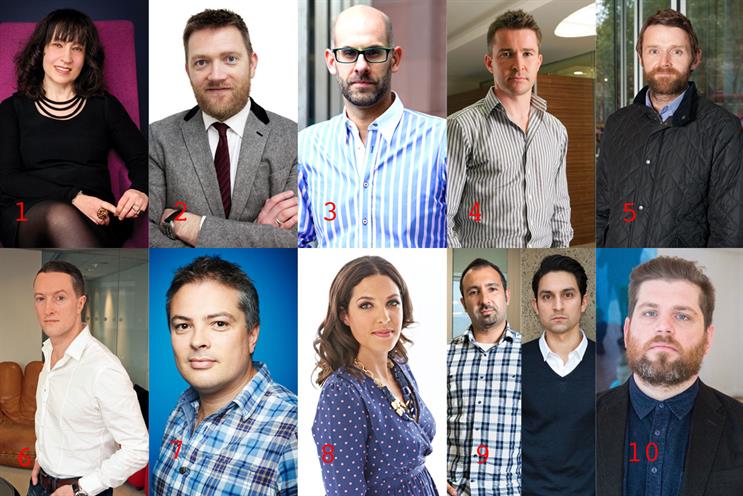 1. Sue Unerman
The brains behind the brawn of Group M's leading media shop, MediaCom's Unerman tops this list for the second successive year as her impact and influence on the business remain second to none. Her work around behavioural economics continued to frame much of the agency's direction in 2014. Behind closed doors, many in her wake confess that Unerman's mantra of "good enough is never enough" does not always make her the easiest to work with, but few doubt its effectiveness.
2. Tim Pearson
Pearson has played a lead role in overhauling Manning Gottlieb OMD's communications planning in 2014. He has put together an enviable retail team, most notable for its John Lewis work, but also servicing campaigns for clients including Waitrose and Specsavers. It will go against the grain for Pearson to be singled out from his team, but few will argue with his contribution to helping Omnicom's biggest but most discrete media agency bag an array of awards in 2014, including three IPA Effectiveness golds and a Creative Effectiveness Lion at Cannes.
3. Dan Hagen
Carat has had another solid year and, with Matthew Hook growing into his role as the managing director, Hagen has shouldered far more responsibility for the agency's strategic output. An affable leader and advocate of convergent planning, he continues to build Carat's reputation for being one of the smartest media shops in town.
4. Stuart Sullivan-Martin
MEC's Sullivan-Martin took on a broader European remit this year as the network continued to expand its regional client roster, servicing clients including Johnson & Johnson, Vodafone and Beiersdorf in multiple markets. Strategic leadership and the championing of products such as MEC Momentum and Thrive5 remain at the heart of the agency, and Sullivan-Martin is central to both.
5. Matt Andrews
Mindshare's understated chief strategy officer continues to set the tone of the agency's planning voice in his own inimitable fashion. Dry wit and sharp insights are the order of the day, and both clients and staff lap it up.
6. Richard Morris
The managing director of Vizeum continues to play a lead role in the strategic direction of the agency, integrating eCRM into its proposition and forging new ground for lkea using EE data and location information to quantify the value of social and mobile to physical retail. The agency continues to operate under the mantra of "simple strategy, brilliantly activated" – boosting its credentials with the key hire of Jem Lloyd-Williams, the MediaCom managing partner, earlier this year.
7. Matt Adams
As the chief media officer of iProspect, Adams is essentially in charge of the entire product for what is one of the UK's fastest-growing agencies. Despite being regarded as a pioneer in the intelligent use of data, programmatic techniques and digital innovation, he also has a strong understanding of the offline media ecosystem.
8. Jen Smith
Smith has fast established herself as an instrumental part of Maxus' new team. The strategic force behind the winning L'Oréal pitch in 2013, she has proved something of an international hit this year with a provocative talk at SXSW on why brands need to become more human to build better relationships.
9. Hamid Habib and Rian Shah
Habib and Shah have been the double act behind much of OMD's new strategic direction in 2014, and all seem to agree that it is impossible to separate their work. Internally, they have helped create the culture of Dan Clays' new agency team while making a notable impact for clients too. Whether it is hanging tractors from cranes for Channel 4 or launching a new language for parents to discuss abuse with children for the NSPCC, their work never lacks a big idea. The duo are also the drivers of OMD's Future of Britain research programme, and the prevailing sense is that their march has only just begun.
10. Karl Guard
As the head of strategy at ZenithOptimedia, Guard has quietly kept his head while all around him has been in disarray in 2014. He is building a strong team that led to winning pitches for O2 (albeit briefly), Giffgaff, Molson Coors and Nestlé. Guard is credited for being a "proper disruptive thinker" who knows how to add value to clients as a strategist above and beyond media planning work. ZenithOptimedia and its incoming chief executive, Grant Millar, will need Guard and his team firing on all cylinders in the new year to help kick-start a much-needed transformation of the business.