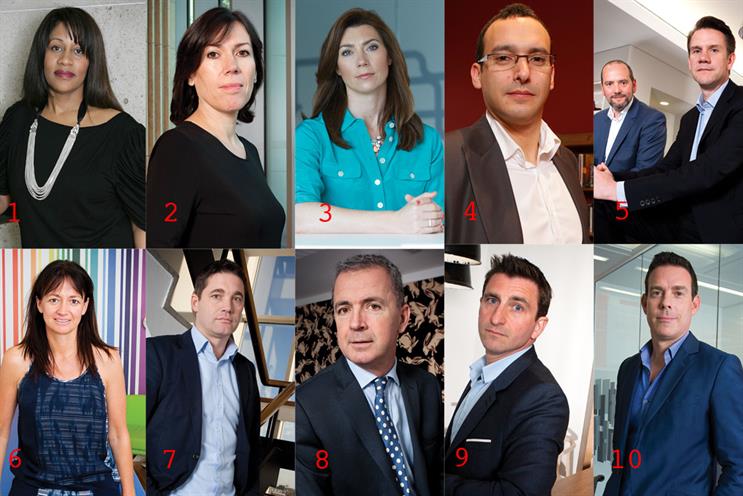 1. Karen Blackett
Blackett has had another stellar year that included receiving an OBE in the Queen's birthday honours list. As the chief executive of the UK's biggest media agency, she steers a team that continues to set the standard, winning more than £119 million worth of new business while overhauling many of its systems. Blackett has also been recognised in the Powerlist – named the most influential black person in the UK – and at the Women in Marketing Awards. No wonder some are convinced media will one day lose her to a political role.
2. Tracy De Groose
De Groose's full return to Carat in 2014 helped the agency secure the top spot in Campaign's new-business rankings. Today's strategic and innovative Carat is very much built in De Groose's image – a far cry from its gorillas with calculators heritage. She is the leader who managed to snatch the Government's media buying business from Sir Martin Sorrell's M4C. De Groose garners respect from those around her and leads from the front.
3. Lindsay Pattison
Managing an agency with 50 per cent growth and bedding in a giant client such as L'Oréal while still keeping the likes of BT happy is no mean feat. "There are no shortcuts," Pattison admitted after a year that saw Maxus leapfrog Starcom MediaVest Group to become the seventh-biggest media shop in the UK. Fitting in the presidency of Wacl and chairmanship of Media360 reveals her energy and ambition. Having built a team of 240 people in the UK, Pattison has bigger challenges ahead after her promotion to global chief executive.
4. Daren Rubins
By any measure, Rubins' PHD has had another great year, with strong recognition in terms of major industry gongs, led by five Campaign Media Awards, a Cannes gold Lion and seven golds at the Media Week Awards. Rubins is a safe pair of hands.
5. Jason Dormieux and Stuart Bowden
Campaign was openly sceptical when the pair took the reins at MEC at the start of the year, but any doubts about the effectiveness of dual leadership were swiftly answered by a string of new-business wins, including GoDaddy, Vodafone and BGL Group. Taking over from 2013's number-one media suit, Steve Hatch, could easily have become a hospital pass but, with complementary skillsets and solid advice on tap from the Northern Europe chief executive, Tom George, the agency remains a true force under Dormieux and Bowden.
6. Jenny Biggam
Being a co-founder of the UK's biggest independent media agency at a time of mass industry consolidation meant Biggam's team was heavily scrutinised in 2014. Following double-digit growth from new-business wins including Save the Children and P&O Cruises, the7stars continues to be among the fastest-growing shops. Its vibrant culture saw it voted number three in The Sunday Times' 100 Best Small Companies To Work For. Biggam's own star continued to rise, leading the industry as the chair of the Campaign Media Awards.
7. Alistair MacCallum
The performance of the leader of Omnicom's sparky M2M was recognised in 2014 when MacCallum was promoted from managing director to chief executive. He has long captured the hearts and minds of those who work for him but, as the agency grows beyond 100 people, he has maintained the kind of passion rivals can only dream about. A favourite with media owners and clients alike, he's far more thoughtful than his immediate persona would lead you to believe. MacCallum has proved to be one of Omnicom's most-effective executives, managing a client base ranging from Estée Lauder to Amazon, from Paddy Power to Notonthehighstreet.com.
8. Phil Georgiadis
After selling a majority stake in Walker Media to Publicis Groupe at the end of 2013, Georgiadis has spent much of his time bedding the agency into its new home. The industry will be hoping his focus behind the scenes is not indicative of a new corporate life for one of media's most outspoken characters. Having spent the best part of 17 years banging the drum for independents, Georgiadis should be afforded time to acclimatise. Any speculation that he might assume a wider role within the group has disappeared – for now – with the collapse of the Publicis/Omnicom merger.
9. Andrew Stephens
Still the feisty frontman of the small shop with a big heart, Stephens embodies growth, hard work and optimism. Helping to retain Goodstuff Communications' stake in Virgin Media is testament to the team he has built, but he will be striving for more in 2015.
10. Paul Frampton
Frampton, who became the chief executive of Havas Media in 2013, makes Campaign's list for the first time. Under his leadership, the agency has won Penguin Random House, Broadbandchoices and Iglo. He'll be the first to concede he had little to do with its biggest win of the year, O2 – but, in charge of the smallest of the networks, Frampton is well within his rights to take the breaks when they come.