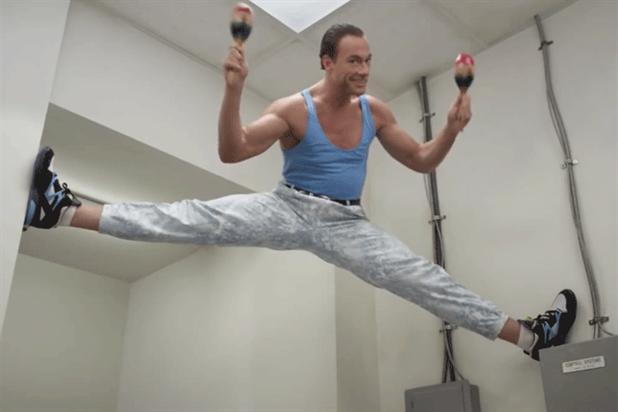 1. Jean Claude Van Damme's most epic ads
This included "the baker" for GoDaddy, the web hosting company, which sees Van Damme appearing in different parts of a baker's kitchen playing various instruments such as the maracas and bongo drums.
2. 'Comedy Dave' Vitty joins Stripey Horse production company
David Vitty, who performed as Comedy Dave on the Radio 1 Breakfast Show' with Chris Moyles, planned to launch a production company to take on ad agencies.
In May, Campaign reported that Vitty had joined Zebra Crossing, the post-production and adaptation company. He is part of its new production company Stripey Horse, and was named the head of development.
3. Freeview launches cat and budgie ad on Channel 4
Freeview, the free-to-air digital TV service, launched an ad featuring a cat and a budgie singing You're All I Need To Get By by Marvin Gaye and Tammi Terrell.
The spot was created by Leo Burnett London, and saw the cat stalking its way to a budgie's cage. Instead of trying to eat the budgie, the cat starts singing, and the budgie completes the duet.
It was written by Leo Burnett London's Phillip Meyler and Darren Keff, and directed by Ne-O through Stink.
4. The Christmas ads you need to watch
This round-up of the Christmas ads featured major campaigns from John Lewis, Sainsbury's, Waitrose, Asda and Debenhams. Many pulled at viewers' heartstrings, while others offered up some comedy.
5. Watch: New John Lewis Christmas ad
The highly anticipated John Lewis ad from Adam & Eve/DDB broke at the beginning of November and has been very popular.
The festive campaign tells the tale of a boy who can't wait for Christmas so that he can give his penguin friend, Monty, the companion he has longed for.
Daniel Fisher handled copywriting for the ad, and Richard Brim was the art director. It was directed by Dougal Wilson through Blink. The computer generated penguin was created by MPC.
6. David Abbott dies aged 75
David Abbott, a co-founder of Abbott Mead Vickers BBDO and one of the industry's most respected copywriters, died suddenly aged 75.
He founded AMV BBDO with Adrian Vickers and Peter Mead in 1977.
7. Chipotle helps the British with pronunciation in first UK campaign
Chipotle, the Mexican fast-food chain, introduced its first UK ad by helping the British in pronouncing its name.
The print ads created by Mother show images of the food the restaurant serves with instructions on how to pronounce Chipotle.
8. British Airways awards entire account to BBH
Bartle Bogle Hegarty won the entire British Airways advertising and loyalty account.
The agency teamed up with Simon Hall and Warren Moore, the veteren direct marketers, to set up a joint venture agency for BA's direct and loyalty marketing business.
9. Models strip in River Island's first TV campaign
River Island, the high-street fashion retailer, unveiled its first TV campaign showing two models seductively taking their clothes off.
It was created and shot by Rokit's Rohan Blair-Mangat. Studio Boulevard did the art direction for the ad.
10. Freeview launches singing toys campaign
Freeview makes it into the top ten again, but this time with its latest ad featuring unsold jumble sale items that come alive singing I Want To know What Love Is by Foreigner.
The ad was created by Leo Burnett's Rob Tenconi and Mark Franklin. It was directed by Sam Brown through Rogue.