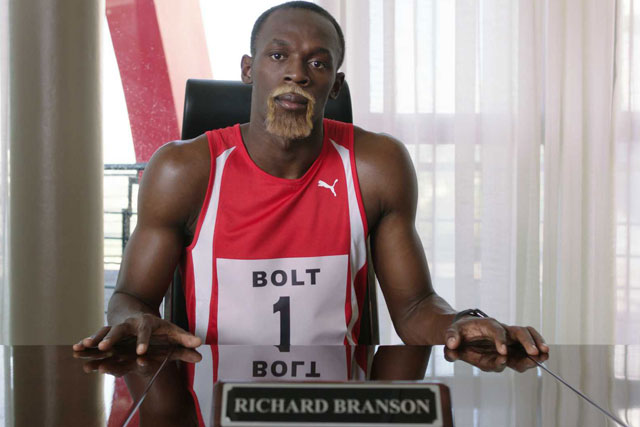 With 20 million tuning in to see Bolt win the 100 metres final on Sunday, the world has reignited its love affair with the Jamaican sprinter.
London 2012 sponsor, Visa ad "flow faster" by Saatchi and Saatchi, which launched earlier this year, has leaped to the top of the most-shared Usain Bolt ads of all time, reaching seven million people.
ESPN's "this is sportscenter" by Wieden & Kennedy is the second most-shared Usain Bolt ad, having been shared by nearly six million people.
Virgin Media's popular "I am Richard Branson" ad by DDB is the fifth most-shared ad, while Puma's "Nomadz & Usain Bolt' ad by Droga5 was in 10th in the chart after being shared nearly 600 times.
The chart, produced in conjunction with Unruly, ranks ads according to the number of times they have been shared on Facebook, Twitter and the blogosphere.
Ads launched more than 30 days ago are not included.
1. Visa 'Usain Bolt vs. London' by Saatchi & Saatchi
7,129 shares
2. ESPN 'this is sportscenter' by Wieden & Kennedy
5,929 shares
3. Gatorade 'the quest for G' by TBWA/Chiat/Day
4,355 shares
4. Puma 'Bolt arms' by Droga5
3,564 shares
5. Virgin Media 'I am Richard Branson' by DDB
2,156 shares
6. Puma 'evoSpeed' by Droga5
1,765 shares
7. Jamaica Tourist Board 'once you go, you know' by Drafctfcb
1,343 shares
8. Jamaica Tourist Board 'speed' by Draftfcb
1,220 shares
9. Jamaica Tourist Board 'one love' by Draftfcb
1,054 shares
10. Puma 'Nomadz & Usain Bolt' by Droga5
575 shares