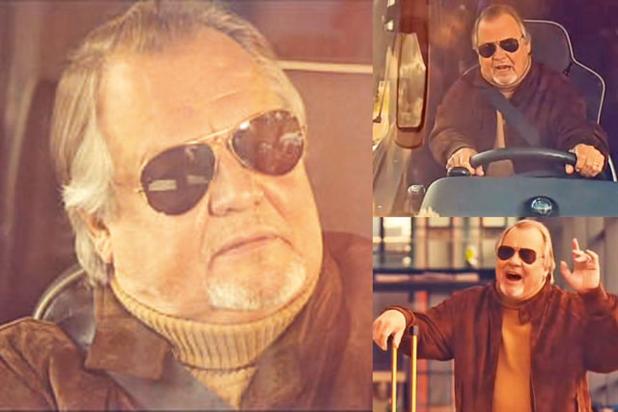 1. Haribo "awkward kiss" by Quiet Storm
The spot for Haribo's Tangfastic sweets show a girl mistaking a boy's sour expression for puckering up for a kiss and gives him a peck.
It was created by Trevor Robinson and Mary-Sue Masson, Quiet Storm's creative team. Robinson also directed the work through Quiet Storm.
2. National Express "Silver Lady" by Isobel
The campaign features David Soul, who starred in the 1970s cop show Starsky & Hutch, driving a National Express coach singing his UK number-one song in 1977 Silver Lady.
It was developed by Rob Fletcher and David Alexander, the creative directors at Isobel, and directed by Olly Williams through HSI.
3. Cadbury "Keith" by Fallon
A logistics manager is in an office on his own when he is put on hold on the phone. After taking a bite of a Dairy Milk bar, the hold music takes over him as he dances in his chair and mimes to Yes Sir, I Can Boogie by Bacarra.
The ad was created by Tom Chancellor, a creative at Fallon, Elliot Harris and Cameron Mitchell, the creative directors, and Santiago Lucero, the executive creative director. It was directed by Blue Source through MJZ.
4. Cravendale "Barry the biscuit boy" by Wieden & Kennedy
The work follows a boy made of biscuits who loses his head when he spends too much time swimming in a lake of milk. When he manages to find his way home, his parents make a new head for him.
It was written by Max Batten, art directed by Ben Shaffery, and directed by Andrew Thomas Huang and Joseph Mann through Blinkink.
5. Ikea "kitchen carousel" by Mother London
The fast-moving ad showcases Ikea's kitchen products as a family works together harmoniously in a revolving kitchen.
The soundtrack is This Head I Hold by Electric Guest. The work was directed by Keith Schofield through Caviar.
6. Channel 4 "born risky" 4Creative
This ad is designed to show the broadcaster's risky approach to programming. It opens with Musharaf, a boy who is overcoming his stammer and appeared on Educating Yorkshire, the reality show.
He talks about taking risks in life, and the camera cuts to shots of various Channel 4 shows that have taken risks.
The work was created by Chris Bovill and John Allison, and directed by Barry Dyer through 4Creative.
7. Dulux "colour prohibition" by Bartle Bogle Hegarty
The ad is set in Prohibition-era America however colour has been outlawed, not alcohol. It tells the story of police trying to catch bootleggers whose paint spills across the road.
A woman manages to take home a tin of paint and colours her home, and falls in love with a neighbour.
The spot was created by Martha Riley and Richard Glendenning, and directed by Christian & Patrick through Park Pictures.
8. Haribo Starmix "office" by Quiet Storm
The sweets brand features again in the top ten. This spot shows adults lip-synching to children's voices describing the sweets.
It was created by Trevor Robinson and Mary-Sue Masson. It was directed by Masson through Quiet Storm.
9. Budweiser "the greatest show on Earth" by Africa
This star-studded ad shows footballers as rock stars. Samuel Eto'o, Hulk, Gary Cahill and Maya Yoshida play Paradise City by Guns N' Roses to a packed stadium. Axl Rose, the lead singer of Guns N' Roses, also makes an appearance.
The spot was created by Sergio Gordilho, Marcos Almirante, Estefanio Holtz, Sleyman Khodor, Lucas Reis and Daniel Del Toro. Rodrigo Saavedra directed the spot through Landia.
10. The Sun "do us proud" by Grey London
This ad shows a chain of people heading a football to each other in time to the words of I'll Never Find Another You by The Seekers.
It was created by Rob Greaves and Sam Daly, and directed by Ed Morris through Rattling Stick.