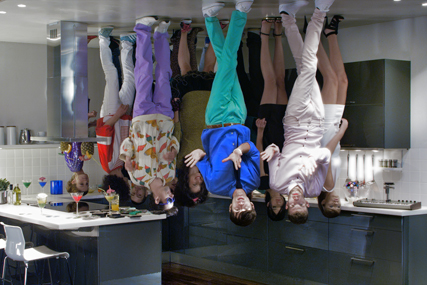 1. Ikea 'you'll always find me in the kitchen at parties'


Ikea taking on Simon Cowell in the Christmas pop charts thanks to its use of Jona Lewie's 1980 track You'll Always Find Me In The Kitchen At Parties was not in our predictions for 2010, needless to say. But the flat-pack furniture giant's pairing with Mother this year has proved anything is possible. The spot/music video is what all great advertising should aspire to be: stylish, witty and, most importantly, fun.
Creative agency: Mother
Creative team: Mother
Director: Kim Gehrig, Academy Films
2. Nike 'write the future'


OK, so the World Cup was a total letdown, but at least the advertising was good. Perhaps our expectations for the contest were set a little high by the pace and entertainment value of this high-octane spot. Nike trounced its competitors as fans clambered on to YouTube in their droves to watch their heroes star in their own mini-football sagas. If only the England team had been half as fun to watch in reality.
Creative agency: Wieden & Kennedy
Creative team: Stuart Harkness, Freddie Powell
Director: Alejandro González Iñárritu, Independent Films / Anonymous Content
3. John Lewis 'always a woman'


Did any other ad campaign receive as much coverage in the national media this year? We doubt it. The John Lewis ad moved otherwise rational adults to tears and sparked much soul-searching in newspaper style sections. Wannabe mums queued in-store to get close to the fridge featured in the ad because they thought it would enhance their fertility. Madness.
Creative agency: Adam & Eve
Creative team: Ben Tollett, Emer Stamp, Steve Wioland, Matt Woolner
Director: Dougal Wilson, Blink
4. Puma 'after-hours athlete'



This ad champions kebab-eating, beer-swilling youngsters who prefer to show off their sporting prowess down the local pool hall in the wee small hours rather than down on the sports track. And, somehow, it still manages to lend a touch of elegance to the notion of "off duty" sportswear, no mean feat.
Creative agency: Droga5
Creative team: Tim Gordon, Kevin Brady, Amanda Clelland, Jesse Juriga
Director: Ringan Ledwidge, Rattling Stick/Smuggler
5. Virgin Atlantic 'your airline's either got it or it hasn't'


Rainey Kelly Campbell Roalfe/Y&R was lauded for its 25th anniversary spot for Virgin, so it had a tough act to follow. Undaunted, the shop came up with a gloriously surreal take on the charms of Virgin's air cabin crew. Camp as you like, this Bond-esque spot was brilliant fun and perfectly complemented Virgin's cool credentials. And its nice to see that at least one brand is intent on putting some glamour back into flying.
Creative agency: Rainey Kelly Campbell Roalfe/Y&R
Creative team: Pip Bishop, Chris Hodgkiss
Director: Traktor, Partizan
6. BBC 'Winter Olympics'


The Winter Olympics was not exactly crammed with recognisable sporting heroes, so in order to come up with a 30-second spot, Rainey Kelly Campbell Roalfe/Y&R had to think laterally. The result is a powerful animation in which an Inuit hero retrieves a spiritual stone that has been stolen from an Inukshuk by a giant bear. The stark, monochromatic film is stunning.
Creative agency: Rainey Kelly Campbell Roalfe/Y&R
Creative team: Freddy Mandy, Tim McNaughton
Director: Marc Craste, Studio AKA
7. Adidas 'Star Wars cantina'


It would be hard to cram any more celebrities into this ad. David Beckham, Snoop Dogg, Noel Gallagher and Ian Brown all hang out with the Star Wars characters Han Solo, Chewbacca, C-3P0 and Obi-Wan Kenobi. The result is pure entertainment, and a lovely trip down memory lane.
Creative agency: Sid Lee
Director: Nima Nourizadeh, Partizan
8. Pot Noodle 'sticky rib'



This ad is very silly and very funny and just what its target audience of students and young layabouts wants to watch. The brand is unafraid to embrace its chav appeal and to entertain its audience. The result is a treat to watch and a masterclass in comedic timing.
Creative agency: Mother
Creative team: Mother
Director: Joseph Kahn, HSI London
9. Drench 'cube'


Drench has continually surprised and impressed industry observers with its advertising over recent years, and this effort is no different. Though it's somewhat uncomfortable to watch a man rearranging his own face, it is a powerful illustration of the brand's powers of hydration.
Creative agency: CHI & Partners
Creative team: Ed Edwards, Dave Masterman
Director: Ulf Johansson, Smith and Jones
10. Magners 'straight'



This ad is 30 seconds of pure charm. Infused with a lovely warm glow, just like the cider itself, the commercial follows a Magners delivery man who is so dedicated to his job that he'll drive straight through a brick wall to get his apples delivered on time. And the wry wit of this spot is every bit as refreshing as the product it is selling.
Creative agency: The Red Brick Road
Creative team: Matt Lee, Pete Heyes
Director: Ivan Zacharias, Stink