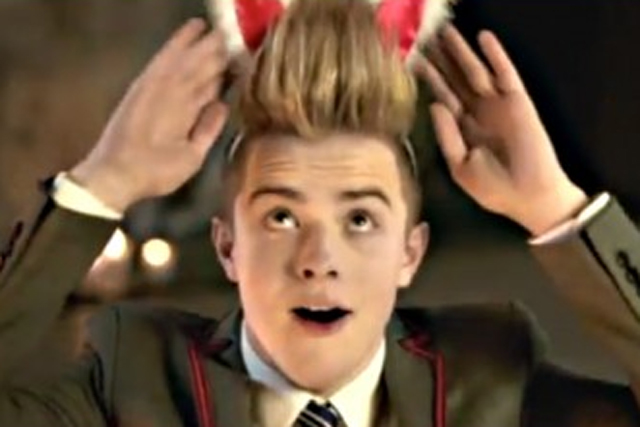 1. Giovanni Rana, Tim Lovejoy

Lovejoy, the cheeky, football-loving geezer, gets ideas above his station with this appalling spot from Leagas Delaney for Giovanni Rana pasta. Aside from him being used as lazy shorthand for a typical "bloke", his lack of acting skills becomes apparent in the unfunny denouement – he's only asking for help making the easy-cook pasta from his sexy Italian neighbour because he wants to seduce her. Pathetic.
2. Thomas Cook, Jamie and Louise Redknapp

Aside from the dreadful scripting and ridiculous scenarios in which the Redknapps found themselves – shirtless beach golf in suit trousers, for example – does anyone really think this pair of millionaires really go on Thomas Cook holidays? To some extent, Beta's maiden work came to define the agency given that it makes an appearance elsewhere in this list.
3. MasterCard, Bonnie Tyler
Having not had a UK hit since the 80s, Tyler might be excused for wanting to top-up her income with a reworking of her most famous power ballad, 'Total Eclipse Of The Heart'. But she isn't and nor is McCann London. The reworked lyrics, a paean to a shopper called Neville, didn't work and the central message that this was promoting a range of MasterCard rewards was lost amid the confusion and explosions.
4. Jackpotjoy, Barbara Windsor

Another masterpiece from Beta, whose debut work for Jackpotjoy featured national treasure Windsor as the Queen of Bingo. While relinquishing a role in 'EastEnders' can lead to many things – traditionally, it was a role in The Bill – Windsor deserves better than having to reel out the astoundingly unoriginal line "Come on boys, show us yer ball".
5. London Pride, James May
Evidence of very lazy casting by DCH, which wrongly thinks it has found an advertising vehicle that suits the persona of professional TV "bloke" May. Based on the premise that May famously doesn't walk anywhere but is happy to stroll to the pub for a pint of Pride, May comes across as an ever so slightly weird Jeremy Clarkson-lite.
6. AA, John Cleese

Divorces can be painfully expensive things and for thrice-divorced Cleese, his most recent split from his American psychotherapist wife left him £12m poorer. This might explain the comedy legend's decision to appear in this poorly scripted and chronically unfunny spot, another from McCann London.
7. The Times, Peter Mandelson

Arch-camp and ultra-creepy, Mandelson chose to appear in character for this series of ads from CHI & Partners to promote the serialisation of his book The Third Man in The Times. Dressed in a velvet smoking jacket and sat in an armchair, he gave a chilling performance.
8. Nintendo, Jedward

Nintendo's use of celebs to front its ads, through Karmarama, is now looking at best unsurprising and at worst extremely boring. When the lengthy roster of celebs features the oddball Irish twins Jedward one minute then Dame Helen Mirren the next, it's beginning to look lazy.
9. Sony, Derek Jacobi

Sony has a history of creating some of the most memorable advertising in recent years; equally, Jacobi is an acclaimed Shakespearian actor famous for 'I, Claudius'. Put them both together, though, and you get an ad, from True, that looks like it should be for Argos and featuring Matthew Kelly.
10. Peugeot, Kris Meeke

Quite whether the Intercontinental Rally Challenge champion Meeke is a celebrity or not is a moot point. What is certain is that he is not an actor. There are also serious questions as to how much effort was put into the creation of the spot, by Euro RSCG London, which sees Meeke drive to an awards dinner in his rally car.