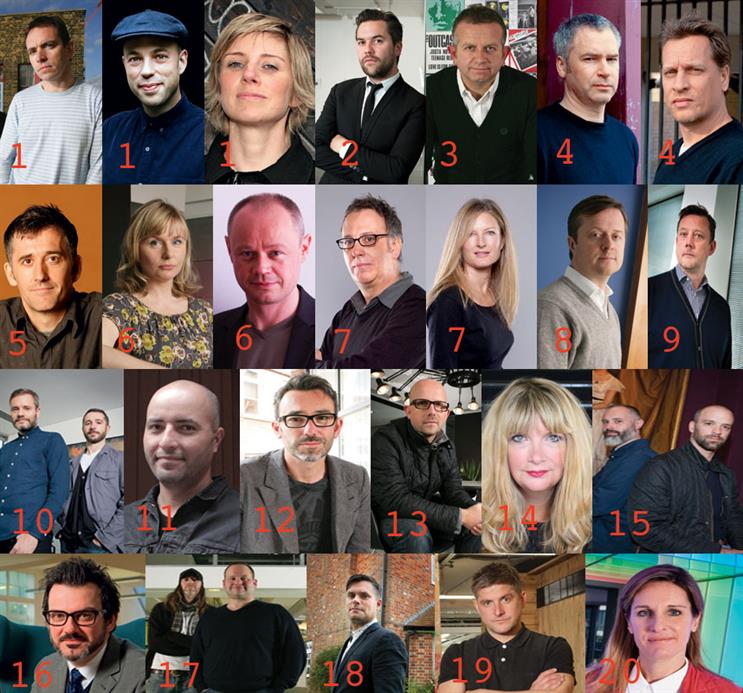 1. Ben Priest, Ben Tollett and Emer Stamp
Adam & Eve/DDB's wunderkinds knock Bartle Bogle Hegarty's Nick Gill off the top spot – a perch he has occupied for the past three years. In addition to a barnstorming performance at Cannes that lifted the mood of the UK ad industry, Priest, Tollett and Stamp continued to pump out top-draw campaigns in 2014 and helped to persuade Virgin Atlantic and McCain to ditch their long-term agencies. Just watch A&E/DDB's ad for the creatively unpromising cat-snack brand Temptations Tumblers to see the confidence inherent in this team.
2. Nils Leonard
Grey London has travelled far to reach the point where it is a contender for our Agency of the Year. Leonard deserves credit for that and, to be fair, he is getting it (and loving it). Grey promoted Leonard to chairman in October in recognition of his achievements, though this was probably also done to send a message about how seriously the agency takes creativity. Leonard is a strong character and sometimes divides opinion – but that cannot be a bad thing for an industry often accused of lacking swagger.
3. Nick Gill
It's been a relatively quiet year for Gill and his team at Bartle Bogle Hegarty. But we stress the word "relatively" , because any executive creative director at a UK agency outside the top five would still commit unspeakable acts to have a year like BBH's quiet one, and Gill remains one of the industry's top talents. Campaigns for The Guardian, KFC and Axe this year showed his class.
4. Robert Saville and Mark Waites
Mother has always had a large portfolio of work shouting for our attention. 2014 felt quiet, though. Despite the absent boisterousness, Mother produced an array of quality work. Ikea "beds" and Stella Artois "perfectionists" were two highlights that show Saville and Waites are still as vital as ever.
5. Tony Davidson
Davidson stands alone in this year's creative director list but that is not the reality of his situation at Wieden & Kennedy London. Davidson's co-executive creative director, Kim Papworth, may have stepped down in September but he is staying at the agency as a senior creative. Iain Tait was hired from Google Creative Lab to replace Papworth, but since he barely has his feet under the desk at W&K, he has not been included in the list. Either way, the changes have shown no sign of denting the quality of W&K's output. Highlights for 2014 include Three's "#SingItKitty", Cravendale's "Barry the biscuit boy" and Honda's "the other side".
6. Emma de la Fosse and Charlie Wilson
The darling of direct advertising, OgilvyOne, was forced to face adversity in 2014 when it lost a big chunk of its account with British Airways. De la Fosse and Wilson, the married couple who head OgilvyOne's creative department, can console themselves with the knowledge that there is little more they could have done creatively ?for the client. Their 2013 "magic of flying" campaign took a Grand Prix at Cannes and demonstrated how the duo think bigger than almost anyone else in their discipline.
7. Paul Silburn and Kate Stanners
Silburn and Stanners were promoted to chief creative officers at Saatchi & Saatchi in June and given group-wide responsibilities. In addition, Stanners continues to run the HSBC and Visa accounts, and Silburn handles the Direct Line business. Despite the extra responsibility, Silburn and Stanners appear to be having fun with their work, as evidenced by the EE Gold Spots and the "Wall'sie" campaign for Wall's.
8. Mick Mahoney
Rainey Kelly Campbell Roalfe/Y&R is so much better than the year it had in 2014. It is testament to the abilities of Mark Roalfe – also one of the nicest people in the industry – that the agency managed to produce quality work amid the client losses and the bedding in of yet another new executive creative director in Mahoney. The "#hibernot" work for Land Rover was a triumph of execution and strategy, the Marks & Spencer food ad was a return to form for one of the UK's best-loved campaigns, while "every man remembered" for The Royal British Legion ensured headlines for a good cause.
9. Russell Ramsey
The grumpy but lovable Ramsey earns his place in the top 20 list this year by ensuring that JWT London's standard stayed high across its client portfolio. There was a return to TV for Mr Kipling, some stunning spots for Canon and a worthy effort for Kenco that doubled as a means to save young Hondurans from gangs. As a bonus, JWT's "we don't bend, we #break" Tweet, mocking people's complaints about the new iPhone, was retweeted more than 22,000 times in the first two days, making it more successful than Oreo's Super Bowl 2013 effort.
10. Alex Grieve and Adrian Rossi
Grieve and Rossi's ranking reflects their short time as joint executive creative directors of Abbott Mead Vickers BBDO – they were promoted in November 2013 after Paul Brazier was bumped up to become the agency's chairman. It's probably going to take a while for the pair to make their mark, given they have inherited such a strong department, but the signs so far point to them being competent and ambitious successors to Brazier.
11. Rodrigo Sobral
Since joining R/GA London as an executive creative director (along with James Temple and George Prest, who have more management responsibilities) in early 2013, Sobral has had his head down working on campaigns for Beats by Dre. This year, his work hit an apex with the release of "the game before the game" ahead of the 2014 Fifa World Cup, stealing the limelight from more established sports advertisers such as Nike and Adidas.
12. Jonathan Burley
Burley could be forgiven for feeling a little pleased with himself at CHI & Partners this year. Nine months after being forced to fight to keep Argos as a client, the agency produced a campaign for the brand that moved the retailer on in creative leaps and bounds and trumped the Dixons Carphone campaign, which had chosen a similar creative route but was less impressive.
13. Justin Tindall
It is impressive enough that Tindall manages the megalithic McDonald's account at Leo Burnett year after year without burning out. But to have managed it for all this time without dropping the quality is a feat worthy of recognition. Tindall's department also produced charming spots for Kellogg's Crunchy Nut and Freeview this year.
14. Nicky Bullard
Bullard's creative department at Lida was impressive on the usual accounts this year, mostly Virgin Holidays and O2, but a sweet glow-in-the-dark mail-out for The National Trust hit the right note too.
15. Laurence Thomson and Rob Doubal
Thomson and Doubal, the likeable pair in charge of McCann London's creative department, are making steady progress. Since they joined in 2012, the agency's creative output has improved every year. Highlights for 2014 include bringing back Fred, the Homepride mascot, as an ambiguously intentioned house guest and winning silver at Cannes for a "friend finder" app for Momondo, the travel price-comparison website.
16. Daniel Bonner
Razorfish's Bonner remains one of the most well-regarded names in digital advertising in the UK. His department's best piece of work this year – "All Things Hair" for Unilever – involved little or no tech wizardry. It was just a good idea, well-managed. Nonetheless, it must be one of the most effective and significant pieces of work to come out of a digital agency this year.
17. Matt Gooden and Ben Walker
Gooden and Walker's last year of working with Paddy Power, the client that made Crispin Porter & Bogusky's name in London, was at least a good one – the "ball of shame" campaign stayed funny to the end. But will they be able to keep their reputation for disruption and mischief-making if they only have clients such as Turkish Airlines and Infiniti to play with?
18. Darren Bailes
It has not been a vintage year for Bailes and VCCP. But it has not been a bad year, either, and his work for Royal London showed his talent for making something entertaining and with broad appeal for even the driest client. Elsewhere, the agency continued to amuse with its campaign for Coors Light with Jean-Claude Van Damme.
19. Danny Brooke-Taylor
Brooke-Taylor has been absent from this list for a few years. Last time he appeared, he was at MCBD. But, thanks to his role leading the creative team at Lucky Generals, one of the most impressive start-ups in town, he is back. Notable highlights from this year include a four-minute cinematic spot for Kahlúa starring the actor Jeff Bridges, which Brooke-Taylor scripted himself, and a prank for Paddy Power that fooled thousands into believing the bookmaker had defaced the rainforest as part of a marketing ploy.
20. Caitlin Ryan
Karmarama's group executive creative director was forced to deal with the departure of Dave Buonaguidi, the agency founder and chief creative officer, this year. She has only been at the agency for a year-and-a-half and, while the output is sometimes patchy, there are a few hits that show she has a good grip on its creative direction.