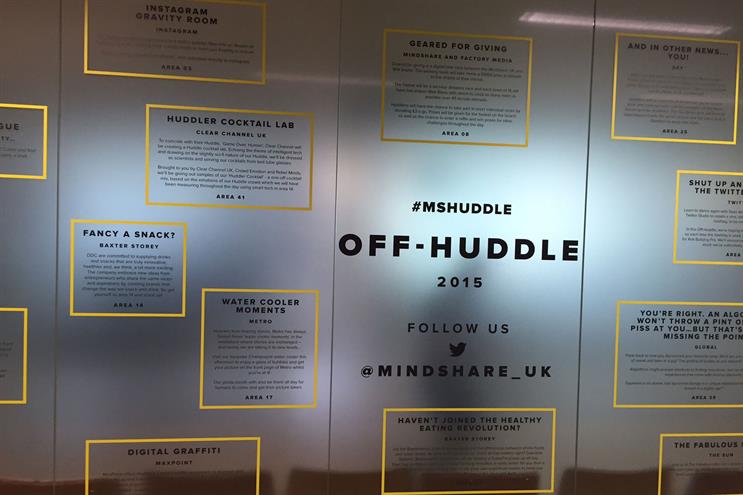 FIFA16
Not really the main feature of the off-huddle, but an important part of our morning so far!
Grubby Goodie Bag
Sounds a bit seedy doesn't it? Tastes like roast chicken crisps. Feast your way through a bag of crickets that are apparently full of protein and nutrients to get you through the day. Gary Lineker watch out…
Internet of Things
Ever got home from the supermarket and realised you've forgotten something? Those days can soon be at an end. As a small team here at Mindshare is helping test the future potential of connected packaging. Imagine waking round the shops and getting a text from your fridge telling you that you are low on milk, you'll never get caught short again.
Pavegen Live
Floor tiles that generate electricity as you walk on them. Great for the environment and planners who can use the data generated to see exactly how people walk around the shopping centre/ airportand so on…
Instagram Gravity Room
Is it an earthquake, is it a falling building? No, it's just some dodging acting powered by Instagram. A pop-up set made to look like your worst nightmare is coming true all in the name of fun.
Radio Times Cover Shoot
Ever wondered what you and one of your friends would look like copying the famous cover pose of Simon Cowell and David Walliams? Well now is your opportunity. All images are then superimposed onto the cover and sent to you at a later date.
Premier League Trophy
Long suffering fans of Ipswich Town or Fulham like our bloggers? With dreams of seeing your team win the esteemed trophy? Well now you can have your photo taken it before your idols will ever get near it. It's just a shame that the ribbons are Chelsea blue…
Micro Pigs
PIIIIIIIGS. Really small ones. Really cute ones.
Right. We're off to find the cocktail making off-huddle…