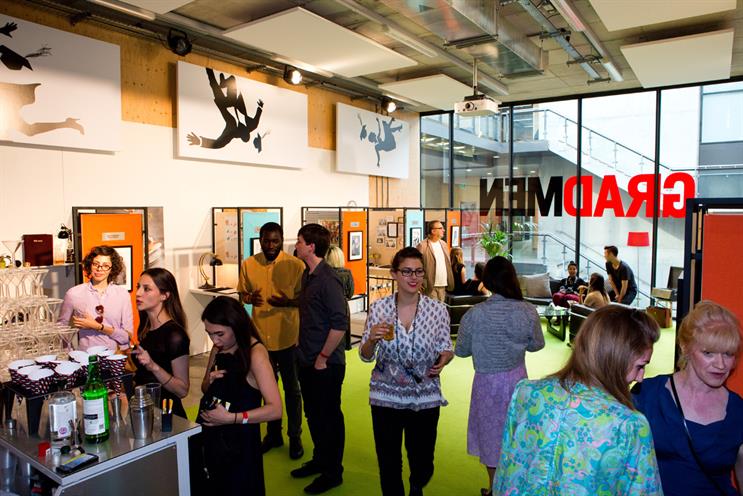 The Granary Complex, Central Saint Martins' newish building behind King's Cross station, is a stunning piece of architecture. Formerly a place where Lincolnshire wheat got stuffed before it got stuffed into Londoners, it is now the most beautiful place of learning in the world. You can keep your fancy Oxbridge quads – this building has won so many design awards for excellence that, if Paul Williams wore them as medals, he would look like a 70s South American dictator.

But that's not why you should visit the degree shows. If you have any curiosity about the future of our business, you really ought to spend a happy couple of hours wandering around. There are wonderful grad shows in fashion, theatre design, product design and many, many more. You might catch the new John Galliano or the next Nick Worthington. But I would head straight for the stunning ad grads. Here, to whet your appetite, are just a few pieces from 2014. Go hire someone and make your company richer.

There isn't room here for everyone from the 2014 graduation class. And that's a crying shame for the clever and talented Antonia Andrews, Quentin Fontaimpe, Na Yeon Kim, Luby Chin and Pa Modou Ceesay. So, please, take the time to see the next show and take in the crackling creative atmosphere of The Granary Complex. I promise you'll be the richer for the experience.


Olga Pope and Molly India Nye
If this ad looks suspiciously professional, it's because it is. It ran earlier this year for the Advertising Association.

Olga is a prodigiously talented writer – Sean Doyle minus wrinkles and plus a skirt (Sean prefers culottes, generally). Molly is, on this showing, the best art director in the year. All clarity, class and communication in her design.

Join the line and take a number if you want to hire them. This ad has already been recognised this year by D&AD. The first of many, I reckon.


Meigan Brown and Toby Owen
When I left St Martins a couple of decades ago, you basically needed to be able to write press ads and maybe some telly. Now, these kids are expected to be able to devise the strategy, invent the product, design the game, code the website, create the activation, the digital, the Vine and the fractovision (I may have made that last one up).

Fortunately, Meigan and Toby seem to be able to do all those things. Their clever, challenging, impactful ideas for gun control are actually best-viewed digitally but, suffice to say, you are invited to save America by shooting President Obama.
Got my attention. Isn't that the game we are all in?


Dani Sayers-Beaumont and Gina Kelly
I paid an early visit to this year's St Martins grads and heard a horrifying story from one of the teams. Apparently, some idiot agency creative had told a team they were unhireable because their book contained a lot of "traditional" creativity.

The really cool thing is that shortsighted dope will almost certainly end up wanting to work for Dani and Gina when they are executive creative directors of their own massive and trendy agency. Bet he proves "unhireable", though.

Their lovely, pun-encrusted campaign for GoldmanSnacks is even more impressive when you realise that they have spotted a gap in the market, invented the product to fill it and created the work to sell it.

Hugely cool.
Cat Lobo and Gabi Gasparini
The Lynx work speaks for itself, so I will talk about Cat and Gabi instead.
They have done a couple of placements at TBWA and all I can tell you is that they are truly alive. They bubble with the joy of thinking up stuff, hunt briefs like a ravenous pack of beagles and generally light up any building they enter. I think their work isn't yet quite as good as they are. But someone is going to snap them up.
Our industry is desperate for more women creatives. Every year, I get a call from our most famous awards ceremony, desperate for more female jurors. Here is the clue, guys (and, shamefully, 98 per cent of executive creative directors are still "guys"): that situation won't change until we hire more brilliant young women straight out of college. Start with Cat and Gabi, if you can.


Domingo Cullen and August Campbell
I had a hilarious lunch with Farah Ramzan Golant last week. She was "worried" that her daughter had turned out to be a prodigiously talented artist. I had to explain that getting into St Martins was more prestigious than getting into Cambridge. I'm not sure I succeeded in convincing her but, if Ishtar does go to our best art college, I reckon she will outdo even her mother.
One of the many brilliant reasons to send your kids to St Martins is the other kids at St Martins. They teach each other with the quality of their work. Domingo and August are, I think, living proof. Just look at this wonderfully written, beautifully art directed piece for Collect+.
Peter Souter is the chairman and chief creative officer at TBWA\London and a Central Saint Martins alumnus