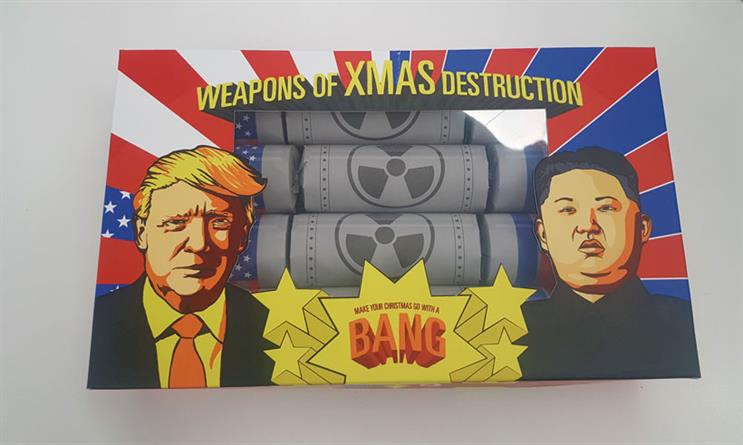 The top five comes with a disclaimer – our roundup of cards was updated with another batch of efforts a few days after the publication of the original list, meaning there is nothing remotely scientific about our ranking, and it should not be taken to offer a professional credential on a par with a Cannes Lion, however much that might seem to be the case.
1. Zak
Everyone will remember 2017 as the year we laughed and cried together at the good natured bants between big Donald Trump and little Kim Jong-Un. Zak captured the zeitgeist perfectly with this topical set of Christmas crackers, which more of you voted for than any other agency Christmas card. Boom!

2. Soul
Winner of the Usain Bolt award for sprint that didn't quite do the job
Soul, part of the second tranche of cards added to our roundup, piled up the votes faster than anyone else, and if we'd kept the voting open longer, they might just have caught up with Zak – but hey, we're cruel like that. This game based around trying to unlock your front door is a wonderfully artistic representation of festive inebriation nonetheless.
3. Bernet Tregaskis
Why so many of Campaign's readers loved the idea of a service that could wipe your sins from the face of the internet, we wouldn't like to guess.
4. Anomaly
The same applies here: we hope that just as it's possible to enjoy the Christmas story without being a believing Christian, the many readers who loved this paean to Satan were just entertained by the plot, rather than being actual devotees of the Dark Lord.
5. Wunderman
Wunderman weren't the first or only agency to record a set of adland-themed variants of Christmas classics, but putting it on an actual vinyl record (and a see-through one at that) seems to have really impressed our readers. Top tip for anyone planning next year's effort: apparently the next big thing with hipsters is something called a "MiniDisc".
Honorable mentions


XenoPsi
Watch XenoPsi's two-hour journey into space here.
Punk