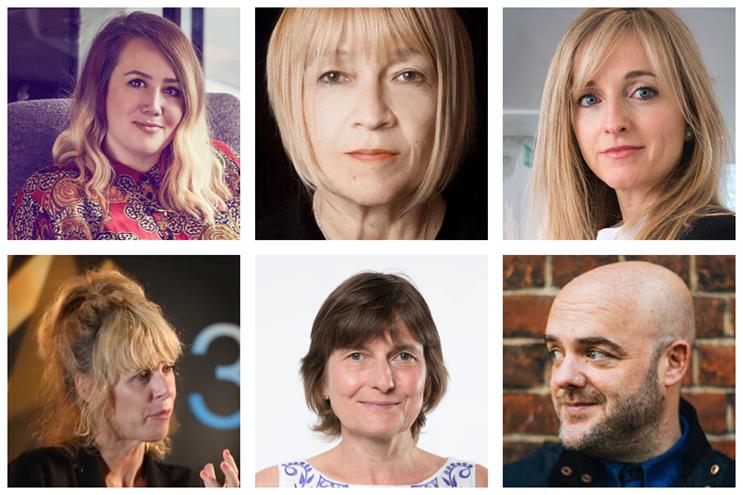 Death by a thousand paper cuts; in the digital age the metaphor by which women are systematically excluded and belittled in the workplace may take place primarily on screens but the sharp edges are nonetheless damaging.
This week's revelation that a departing planner from The & Partnership London sent a "Top Five" email around the agency rating his female colleagues by their looks was the sharp end of a toxic advertising agency tradition, which many believe had long had its day. Since publishing the story, Campaign has received another "Top Five" email from a departing account planner at the agency in which his "Top Five" women appear in a Top of the Pops-style countdown because, according to his email, "It's tradition".
Clearly this 'tradition' is bigger than any one individual or agency. A subsequent open-source Google document was created to shine a light on the "Top Five" practice across London advertising agencies. The document accuses Wieden & Kennedy, VCCP and Iris of being places where these lists have been circulated.
A spokesperson for Wieden & Kennedy London said: "Wieden & Kennedy London is committed to providing an environment for creative people of all kinds to do the best work of their lives; we're pushing ourselves on what that looks like in 2018 and stopping anything that gets in the way of it."
A VCCP spokeswoman said the "Top Five" favourite individuals and teams were occasionally a feature in informal leaving emails from both men and women, but the practice died out some time ago. VCCP emphasised that the leaving email which has sparked this controversy is not in any way comparable, adding: "It is unacceptable and offensive and has rightly been condemned across the industry."
A spokeswoman for Iris said: "'Top Five' emails from male or female leavers have never been a formal or encouraged tradition, they have been largely non-sexual in nature, and there have been none of a sexual nature in recent months. Top 5 emails instead tend to refer leavers' favourite jokers, inspiring people, agency playlists and local lunch-spots, for example. Nonetheless, the company has made it clear on several occasions, and again recently, that regardless of content 'Top Fives' are against company policy and is not acceptable behaviour from any member of staff."
The planner involved in the email which sparked the controversy, Paul Martin, apologised saying it was "meant to be a stupid, ironic attempt to subvert and mock the sexist 'Top Five' emails that have been sent around agencies for many years, but I have totally missed the mark and take full responsibility".
His email was immediately called out by Above & Beyond creative Natalie Gordon and campaigner Cindy Gallop on Twitter, after it was forwarded around adland over the weekend along with The & Partnership chief executive's Sarah Golding's response, which was sent without reading his full message.
Another layer of confusion was added to the debacle by a tweet from Johnny Hornby, the founder of The & Partnership, who faced a stinging reminder that social media demands not just immediacy, but accuracy. First, by declaring: "Our CEO Sarah Golding was first to spot and condemn the email sent Friday, she had Paul publish an apology and stopped the Top 5 email tradition at her agency and I am sure as leader of the IPA will stop it altogether."
He had to subsequently back-track from the comment responding to a tweet from Martin saying: "In swiftly commending Sarah Golding for how she she [SIC] dealt with the fallout from your email on Friday I was mistaken in thinking you were prompted to apologise – when you quite rightly did it yourself."
In the midst of this mess silver linings came in the shape of the UK ad industry's launch of its "timeTo" campaign to tackle sexual harassment and a call to start a new tradition to celebrate women in advertising.
To move forward, acknowledging and addressing the mistakes of the past is vital. With this in mind, we asked a selection of industry leaders: is the top five email indicative of a culture that is inherently toxic in agencies?
Sarah Golding
Chief executive, The & Partnership London
There is no place in any company for the sort of email sent around my agency last week. It featured a level of objectification that is unacceptable. There will be no more 'Top Five' emails at The & Partnership London. But does this reflect a toxic culture in our industry? I don't think so. There are many company cultures where a 'Top Five' would be impossible because they are dominated by one gender; there are many where staff turnover is so high that no one forms the friendships these emails normally celebrate; and there are others where staff would never be allowed to email everyone to say goodbye. To me these are the toxic cultures. I work in an environment where real friends are made and where both sexes have equal opportunities to share their views. But Top Fives as an expression of that culture have no more place than the sexy icon that featured in Campaign's A-list up until this year. They are gone, and rightly so, but the unique energy of agency life must be celebrated in new and far more appropriate ways. We must now make positive change together rather than attacking one person for a momentary lack of judgement.
Jane Asscher
Chief executive and founding partner, 23red
Maybe.The top five email is shocking and depressing to read. This inherently toxic "tradition" certainly has no place in my agency. Changes are being made across the industry but there is still a long way to go before this behaviour is fully eradicated. Like other senior women in the industry, I spend much time encouraging young women at school and university to consider advertising as a rewarding, meritocratic career option and mentoring young talent in our industry to help them succeed. A "tradition" like this totally undermines the important work we are doing to tackle gender inequality. Maybe we can thank Paul for bringing this outdated and divisive practice to our attention. We can bury it once and for all and focus on building a culture that fosters collaboration and creativity.
Cindy Gallop
Founder, MakeLoveNotPorn
The "Top Five" email is just one more manifestation of a toxic "bro" ad industry culture where white male privilege has run rampant for far too long. The full spectrum of sexism, racism, bias and sexual harassment ranges from emails and offensive and inappropriate comments and so-called "jokes" through propositioning and retaliation when advances are rebuffed, all the way through to violent sexual assault and rape (yes, rape happens a lot in our industry), but all of it has served its ultimate purpose well - keeping women out of leadership, creative leadership and power. Often intentionally - sexual harassment is used to keep women "in our place", especially when men feel threatened by brilliant, talented, competent women. The sad thing is that if the men in our industry really committed individually, personally, to STOP DOING THIS AND TO STOP OTHER MEN FROM DOING IT, they'd be blown away by the much happier, more creative, more innovative, more lucrative industry they'd find themselves working in under gender-equal leadership. And my god, the work would be so much better.
David Billing
Executive creative director, Above + Beyond
I was lucky enough to watch Sarah Golding host the Campaign / IPA Women Of Tomorrow awards on Thursday evening. I was moved by the overwhelmingly positive, take no shit mood of the night - clearly progress is being made. Then on Monday, this. Not coming from advertising originally, I didn't know the "Top Five" email was a thing. I'm pretty staggered that it is. As we constantly preach to our clients, people judge brands on their actions, not words. It seems at times that we're an industry that struggles to practice what it preaches.
Joanne Lucy-Ruming
Managing director, Major Players
It's clear flagrant sexism and discrimination is rife. The "Top Five" email is a case in point. This kind of "banter" is clearly accepted as normal, the guy thought that this was okay to send round to the agency as his parting gift. . Leadership needs to remove these toxic cultures. We are in a war for talent and people won't stick around. The culture of a company is far more transparent and review sites such as Glassdoor make for an interesting read. Whistleblowing, change agents, putting culture at the top of the business agenda and positive role models are all things companies can do.
Ali Hanan
Founder and chief executive, Creative Equals
Toxic. This kind of language kills careers, leads to a loss of talent from the industry and is degrading, demeaning and demoralising. Our statistics show about 30% of women experience discrimination in the workplace. A third. Does anyone think that is acceptable? The onus here has to be on men to stop and think of the consequences of their actions. So, men, here are your top five questions to ask yourselves, before your write.
One. What would my daughter/partner/wife/sister think if they read this?
Two. What impact will this have on careers of the women around me?
Three. Do these comments reflect the values of this company?
Four: Do my words reflect the society I'd like to live in?
Five: What could I write differently to serve my values?
And my previous answers?
Stop. Think. Write.