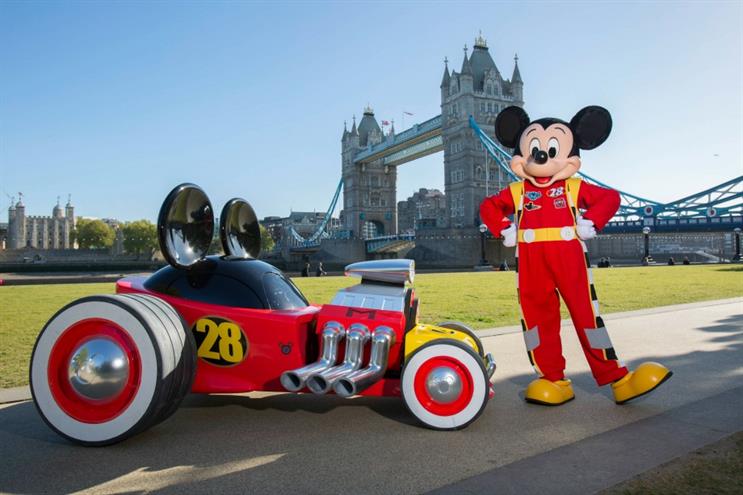 To celebrate the launch of TV programme 'Mickey and the Roadster Racers', which airs on Disney Junior and DisneyLife, the iconic Disney character and his racing car have been spotted motoring through London. Mickey Mouse and his vehicle have been visiting various places throughout the capital, including Charing Cross taxi rank, Southbank and a zebra crossing in central London. The stunt has been developed by a team of eight engineers and experts, and the Roadster Racer - also known as 'The Hot Doggin Hot Rod' - took a total of eight weeks to build. The Roadster Racer model measures 2.4 metres in length, and features a '28' on the side, which represents the year in which Mickey Mouse first appeared onscreen in 'Steamboat Willie' in 1928.
Rob Sharp, the former managing director of Pulse Group, has launched LEX, a new live experience venture which targets agencies, brands and rights holders. Sharp left Pulse Group in December after three years at the agency, in preparation for launching LEX, a business which aims to provide expertise in strategy, creative concept generation, innovation and experience design across live experiences and digital. LEX will take on a Hollywood business model with Sharp leading the venture and handpicking live experience professionals on a project by project basis. Sharp has previously worked on projects for brands such as Puma, Red Bull, Emirates, PlayStation, Heineken, Team GB, World Rugby and Diageo.
B&Q launched a pop-up garden in London's Soho district, which opened on 26 April, welcoming guests until Saturday (29 April). Visitors can enjoy the greenery while treating themselves to freshly cooked barbecue food and botanical-inspired drinks served from the brand's gin shed. The pop-up aims to offer Londoners a space to relax, enjoy and be entertained. B&Q's latest range of of outdoor furniture is being displayed amongst a collection of plants, flowers and shrubs, and a selfie wall, constructed entirely of flowers, has been installed for guests to enjoy and snap photos for their social media channels. On 29 April, barbecue cook and YouTuber, DJ BBQ, will be onsite to demonstrate his grilling and DJ-ing skills on the latest B&Q barbecues.
Crisp brand Pringles launched the world's first flavour cloud on 26 April, in collaboration with TV personality Kelly Brook. The three-metre-high flavour cloud was installed in Potters Field park and aimed to give visitors the experience of stepping into a cloud that tastes like the UK's favourite Pringles flavour – sour cream and onion. The stunt was developed after research commissioned by Pringles exploring the future of snacking and the UK's changing taste buds. A selfie station was also available, and guests were able to receive Pringle give aways.
Fitness brand David Lloyd is to offer group napping classes designed to help guests reinvigorate their minds, improve moods and burn calories. The 'Napercise' classes are being trialled this weekend (29-30 April) and have been developed after research found that 86% of parents suffer from fatigue, with 26% regularly getting less than five hours sleep a night. Guests will embark on 45-minute sessions which aim to reinvigorate minds and moods, as well as help with calorie burining. Spin bikes will be swapped for single beds, and upbeat workout tunes ditched in favour of atmospheric sounds to create the perfect environment for sleep. The studio temperature will also be dropped to a level that promotes calorie burning during sleep.
For your daily hit of news from the brand experience community, weekly brand and inspiration updates or your monthly trend download, register and subscribe to Event and our bulletins.
Comment below to let us know what you think.