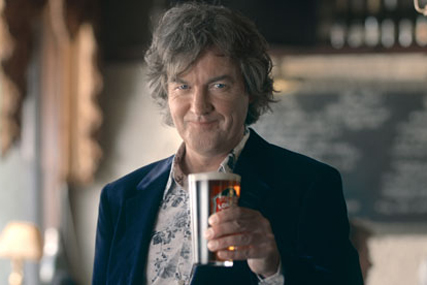 The integrated television, outdoor and online campaign, created by DCH and planned and bought by MEC, launches on 12 October.

In the TV campaign, May steps out of the house and walks to his local pub. Appearing to have pre-empted May's arrival, the barman places a pint of London Pride in front of him.

May says to camera:" This is the one thing I'll walk somewhere for." The camera cuts to a close-up of a pint of London Pride on the bar. May is then heard to say in the background: "I think I've got a blister." Next to the pint, the line: "Whatever you do take pride" fades up.

May famously refuses to run on camera during 'Top Gear' challenges, preferring to walk, much to the annoyance of his fellow presenters.
He is also a famous ale drinker, so much so that his co-presenter Jeremy Clarkson has stated that May, "eats pastry, drinks brown beer and thinks a curry is exotic."

John Roberts, managing director of the Fuller's Beer Company, said: "James May is a great ambassador for London Pride. As a seasoned beer drinker, he recognises the quality and craftsmanship that goes into the creation of London Pride.

"We're confident James will help us bring a British classic to a whole new audience through our new campaign, which draws on James' trademark humour and love of a good pint of Pride."

The outdoor executions also feature the Fuller's London Pride tag line: "Whatever you do take pride", which was created by DCH in 1995.

May is pictured in a series of comical poses with his pint of London Pride and each execution features a headline drawing on his sense of humour, such as: 'Apparently, this comes in half-pints too if you're that way inclined'; 'A swift one? That would just be rude', and 'A great example of British craftsmanship, and I'm about to make it disappear.'

The activity will also include a dedicated London Pride Facebook page where users can post regular updates linking in to other campaign elements.

It also features an online tour of the 350-year-old, family-owned Fuller's brewery in Chiswick, fronted by May, as well as a pub quiz with the chance to win monthly prizes and a tutored beer-tasting with Fuller's head brewer, John Keeling.

Andrew Hawkins, managing director at DCH, said: "James May and Fuller's London Pride are the perfect marriage. James' passion and fascination with British craftsmanship, and genuine appreciation of London Pride meant he was the only option – we simply wouldn't have gone to any other celebrities if he had not agreed.

"They share essential values: integrity, modesty, discernment, quality, wit and quintessential Britishness. The campaign has been built on genuine principles. All this adds up to a pint that is brewed, kept and served with the utmost integrity, being promoted by a man whose integrity is unquestioned."