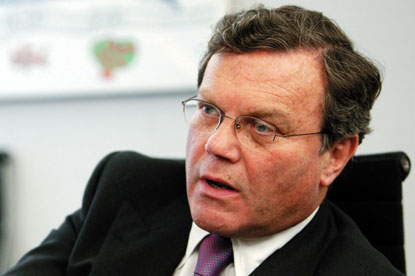 If size of media billings was the litmus test of a successful global group, WPP would come out on top. What's more, all three of its media networks bucked the overall trend and showed real billings growth during 2008.

But WPP had less to crow about in relation to its creative agencies.

Only two of its four main networks - JWT London and Ogilvy Advertising - avoided suffering a worse decline in billings than the average 7.4 per cent.

Grey Worldwide saw billings fall by 12.8 per cent while Rainey Kelly Campbell Roalfe/Y&R suffered a fall of 13.2 per cent.

Other global groups did even worse. Omnicom's main creative and media networks all lost market share, although client spend with its smaller, predominantly below-the-line, creative networks such as Proximity London and Rapp held firm. So it's hardly surprising that the

Omnicom chief executive, John Wren, was the first among the global group chiefs to report a decline in profits in the final quarter of 2008.

Publicis Groupe experienced a mixed performance - its media agencies all underperformed against the average and only two of its four wholly owned creative networks did better than average.

Publicis London had a particularly poor year with billings dropping by 21 per cent.

By contrast, its fellow Publicis agencies Saatchi & Saatchi and Fallon both achieved positive billings growth under the newly created umbrella of SSF Group led in London by Robert Senior.

But the relatively faster growth at Fallon added weight to the suggestion that Saatchis' London office needed a creative fillip, while Fallon's US operation was in even greater need of resuscitation.

Publicis Groupe agencies experienced a poorer and more varied billings performance than those of WPP, yet Publicis has just announced a substantially better operating profit margin than is expected from WPP. How can that be?

When interrogating agency finances, it's always wise to remember that a growth in billings will not necessarily be matched by a growth in operating profit.

A lot depends on the nature of the work done, the rates that can be charged and the operating efficiency achieved in delivering the service.
Has Publicis made better margins out of its growing digital business than WPP?

Their digital assets are not identical in nature and much of the new revenue flowing into Publicis came from its digital consultancy - in the shape of Digitas - acquired early in 2007.

Its global digital activity in 2008 accounted for 19 per cent of total revenue, according to its chairman, Maurice Lévy.

But it would be unusual to find operating margins on digital business exceeding those on media buying, and, at WPP, it is media billings that have shown greater growth than at Publicis.

So are the WPP media agencies simply buying volume at lower gross margins?

Lévy's explanation is simple, probably overly so: "The optimisation of various ongoing costs and capex allowed the group to secure its margin." Put another way, that probably means the group has put the brakes on salary rises and capital expenditure.

Havas is a relative minnow among the global groups, but the main agencies in its stable achieved above average billing performances. By contrast, the principal Interpublic-owned agencies - McCann Erickson, Lowe, Initiative and Universal McCann - were consistent only in each performing even worse than the average.

How will the billings slide affect the global giants, particularly if the recession proves to be long and painful? Financial vulnerability can prompt two opposing reactions.

It can force change on those who cannot survive without it. But it will deter risk-taking among those that could otherwise afford it.

We are more likely to see rationalisation than big-ticket takeovers while credit is so tight.

Such acquisitions as there are will probably be limited to modestly priced expansion into markets offering fast returns with limited risk.

We should not expect any more big cash-funded acquisitions in the digital market in the near future, so any group that has been slow to embrace the technological revolution is likely to lose further ground.

Nevertheless, some companies may contemplate cashless mergers by means of a share exchange.

Will IPG or Havas be driven to merge with another group? Can Aegis or the digital group LBi retain their independence?

Timing and cash will probably be the deciding factors.