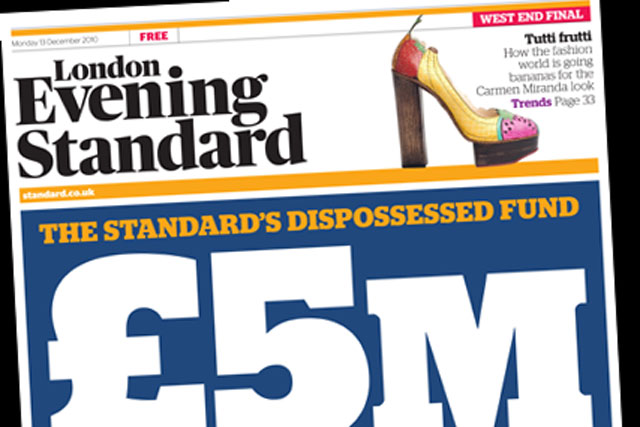 The Evening Standard
2010 has been a phenomenal year for The Evening Standard. The capital's newspaper, now a freesheet, has undergone a total transformation.
The Dispossessed fund – a philanthropic initiative it set up to tackle inequality in the capital – has been a big success, smashing its targets and proving that Londoners have compassion for those less fortunate than themselves with whom they share a city.
While the end of thelondonpaper and London Lite led some to question the free-sheet model, the success the Standard has made of its transition to this format shows that while the future may not be entirely free, there is potential in taking this route.
Digital Cinema Media
Cinema sales house Digital Cinema Media (DCM) has made the most of a stellar year for the medium. The company has done a great job in demonstrating its benefits to advertisers, not least by building on the advent of 3D-cinema technology, which has created a genuinely new platform.
DCM's championing of the medium – led by its energetic managing director Martin Bowley – has ensured that brands such as Cadbury, BBC, Wrigley, Sky and Panasonic have bought into it this year.
The X Factor
There is no doubt that in 'The X Factor', ITV has the television property of the year. Almost 17 million viewers watched the second judges' houses show and the live broadcasts continue to draw in huge and growing audiences.
The broadcaster has also struck an agreement with iTunes, under which ITV sells recordings of the contestants' live performances on a weekly basis. Fantastic production values, combined with high drama and the all-important "talkability" element has ensured that 'The X Factor' has continued its apparently unstoppable rise.
Stylist
There is no doubt 2010 has been a tough year for publishers, but the sister title of men's free magazine, Shortlist, has been a big success.
The combination of intelligent editorial and thoughtful design has cemented the free women's weekly's position as a must-have rather than an after-thought on advertisers' schedules.
Completely London
Hats off to estate agent Kinleigh Folkard & Hayward, which has funded one of the most beautifully crafted magazines of the year.
Completely London launched in late 2009 into a tough housing market. The magazine has succeeded, though, and came into its own this year – with a mixture of stellar editorial from the likes of Observer columnist Victoria Coren, complemented by beautiful design.
Capital Radio
This September, Capital posted its highest reach in six years in that month's Rajar figures. The jewel in the crown is the breakfast show – fronted by Johnny Vaughan and Lisa Snowdon – which returned an increase in reach and market share third quarter on second quarter and year on year.
The show beat BBC Radio 1 DJ Chris Moyles on both counts across London, with 189,000 breakfast show listeners more than its rival tuning in each week.
Conde Nast Digital
While many publishers sat around waxing lyrical about how the iPad would revolutionise publishing, Conde Nast simply got down to the task in hand. Its team rolled up its sleeves and created some brilliant apps both for Apple's tablet and for smartphones across its market-leading brands, including Vogue and Conde Nast Traveller.
The Vogue app included Mario Testino photo stories, portraits of some of the most successful supermodels of the decade and outtakes from Vogue photoshoots. Brands including Burberry, Chanel, Fendi, Gucci, Ralph Lauren and Tiffany created customised advertising in the app.
Digital title Wired also launched its debut iPad app, complete with high-definition video and audio functions, and exclusive 360 degs images.