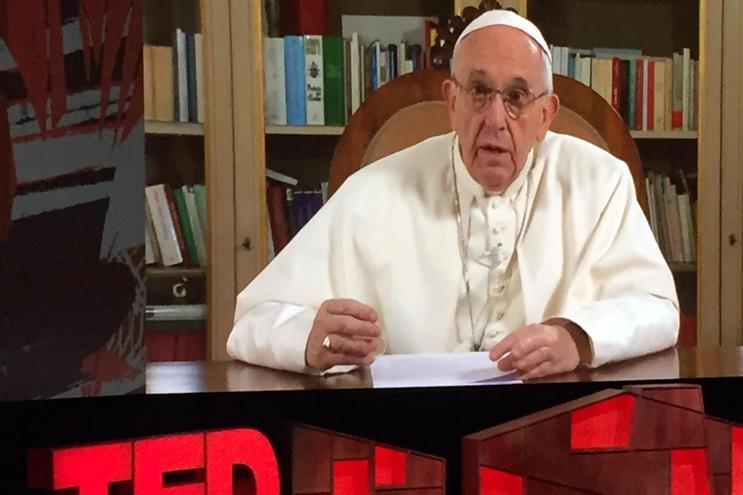 I arrived in Vancouver for TED2017 a little gloomy. "I'm sick of politics" was Chris Anderson's opening line, and it is fair to say that a Trump-sized shadow did seem to hang over proceedings at times.
But I left on Friday with precisely the opposite feeling after listening to 100+ talks on how to address the many and varied challenges facing us all. I concluded that there are more than enough reasons not just for hope, but also genuine optimism.
It was the usual mix of the brilliant and bonkers, incredible art and mind-blowing science, and a little glimpse into the future of tech. We had bands like OK Go, celebs like Shah Rukh Khan and legends like Serena Williams, but as usual the true brilliance came from people I'd mostly never heard of before.
Here's a list of the ten best talks (in no particular order) that will be coming online in the next few weeks:
Cathy O'Neil
This mathematician gave us a challenging view on the algorithms that govern modern life. We're made to believe they are both infallible and independent when they are often anything but. They are coded by humans with all the biases of humans coded into them. She argues they are often "Weapons of Math Destruction".
Manoush Zomorodi
This podcaster argued convincingly for the brilliance of boredom. She argues the brain needs to get bored to get creatively brilliant, and in the modern age it is never given the chance to. She doesn't want us to stop using our devices but wants us to change our relationship to them.

Kevin Chesters soaks it all in
His Holiness, the Pope
Pope Francis surprisingly joined from the Vatican (!) to argue eloquently for the vital importance of empathy in modern life. It was an eloquent and forceful antidote to some other world leaders we could mention, and felt also at times like a less-than-gentle rebuke of them.
Ashton Applewhite
Spoke powerfully about the epidemic of ageism that affects everything we do. We are all either "old or future old" and she spoke about how we shouldn't be fearful of getting old but how "fear and shame create markets". It's going to happen to us all – worth watching.
Luma Mufleh
My favourite talk and a sometimes uncomfortable one to watch – beautiful and haunting from a Jordanian refugee who now lives in the US. She's a gay, Muslim refugee in Trump's America. Not an easy thing to be. As she said, "We have seen advancements in every element of society except our humanity" .
Anthony Romero
The amazing head of the American Civil Liberties Union gave an incredibly intelligent warning on the perils of bad government (ahem) through allegories to 14th century Italian art (with contemporary news headlines interspersed). Just watch it.
Tristan Harris
This was a brilliant (and thoroughly scary) talk on the battle taking place for the most valuable commodity in the modern age – your attention. He used to run the Persuasive Technology Lab at Google. Think of all those billions of dollars and amazing minds dedicated simply to keeping you on screen for as long as possible.
David Miliband
Now head of the International Rescue Committee, he talked through his view about how the refugee crisis might not be immediately solvable but it is eminently manageable. I was struck mostly by what a loss he is to British politics. Come back David!
Ted Halstead
This genuinely surprised me, and a few others. Halstead is the head of Republican Climate Leadership Council (yes, they have one) and he outlined the Republican vision for how to solve the climate change challenge. Compelling and persuasive, he says, "Maybe there is a Republican solution, and maybe it's better".
Anne Lamott
Too good. Author Lamott gave an incredibly insightful, erudite and funny view on her top lessons for life. It's just 15 minutes you cannot miss when it comes online. I'll save the best lines for you to enjoy yourself.
Two other highlights: Billionaire Elon Musk is building a 200kph public car-skate tunnel thing under LA, and we can apparently solve global warming through pumping chalk into the clouds (Danny Hillis). Who knew?
TED was, again, an amazing experience. I've said before that it's a planner's job to separate the useful from the interesting, and you'll never get more interesting stuff to choose from. Whatever you do, or whatever sector you work in, there'll be one talk relevant and useful to your day job or clients.
And I'll finish where I started, with optimism. My main takeaways were that it's always better to prefer positivity over despair, problem solving over problem spotting, and respect over partisanship. The quote that finished the conference came from US Constitutional lawyer, Noah Feldman: "It's going to be OK."
By the end of the week, I believed him.
Kevin Chesters is the chief strategy officer at Ogilvy & Mather London
@hairychesters