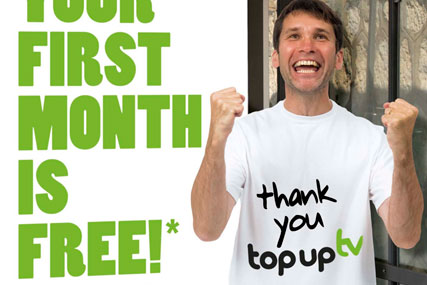 Earlier this week (21 July) Top Up TV announced it was to offer Sky Sports 1 for £22.99 a month, Sky Sports 1 and 2 for £31.99 a month and Sky Sports 1, Sky Sports 2 and ESPN for £39.99 a month to its customers from 2 August.
The company has already started promoting the channels with a direct mail campaign.
Markham said: "In the short term it is very much a direct campaign, we are going to target current subscribers and people who used to take Setanta.
"We will shift to retail and above the line as the year progresses."
The Top Up TV activity will be created by the integrated agency The Team, part of the Lowe group, and complemented by promotion via the Freeview EPG.
Markham said: "We are part of the same company that owns the EPG on Freeview so we will do lots of advertising through the EPG as it's perfect targeting for our audience."
BT launched a £30m campaign to support the addition of Sky Sports 1 and 2 to its BT Vision pay TV offering at the start of July and in the past week both Sky and Virgin have launched major marketing campaigns.
Markham declined to comment on whether Top Up TV had targets for the number of subscribers it expects to attract with its new channels as the business is a private company.
Markham said: "Premium sport is important to our business but our TV favourites service is equally important and we're hoping to be able to offer more movies in the future."