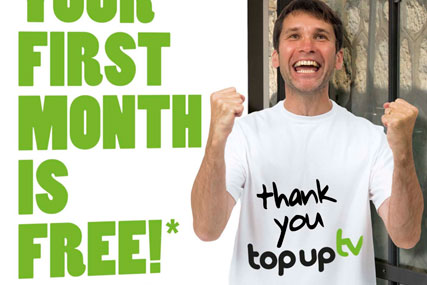 From August Top Up TV will offer Freeview customers Sky Sports 1 for £22.99 a month, Sky Sports 1 and 2 for £31.99 a month and Sky Sports 1, Sky Sports 2 and ESPN for £39.99 a month.
Top Up TV is the only provider to offer the premium sports channels with no additional requirement to buy other channels or services, such as phone and broadband.
As an introductory offer subscribers to Top Up TV will get Sky Sports 1 and 2 free for the first month with no obligation to a contract if they sign up before 6 September 2010.
Nick Markham, chief executive, Top Up TV, said: "Top Up TV is the easy place to get Sky Sports 1, Sky Sports 2 and ESPN in the UK.
"With no 12-month contract, the lowest stand-alone price and no need to buy bundled packages, Top Up TV puts fans in control – you can choose the best sport on your own terms."
Top Up TV and other providers are able to offer Sky Sports 1 and 2 following Ofcom's ruling in March that Sky must offer the channels to its competitors at a fixed price. All parties are currently appealing the decision.
A spokesman for Top Up TV said it had not confirmed any plans for above the line marketing activity.
Yesterday Virgin Media launched a campaign to support the introduction of Sky Sports 1 HD and Sky Sports 2 HD on its platform from 2 August. A Sky campaign starring Eric Cantona launched on Friday (16 July).
To get Sky Sports on Virgin Media it costs £50.49 for broadband, Virgin Media TV, phone line and Sky Sports 1, 2, 3, 4 and News. Alternatively customers can get just a basic TV package with Sky Sports for £32 a month.
Though BT Vision offers Sky Sports 1 and 2 and ESPN for £11.99 this is on a 24-month contract basis and customers are also required to take out BT broadband which is an additional £17.99 a month and line rental which is £11.54 a month.
Sky made the shock move of upping its prices the same day BT announced its price plan. A basic Sky subscription pack with Sky Sports 1 to 4 now costs £39 a month and includes broadband and Sky Talk, but not line rental. The addition of ESPN costs an extra £9 a month.