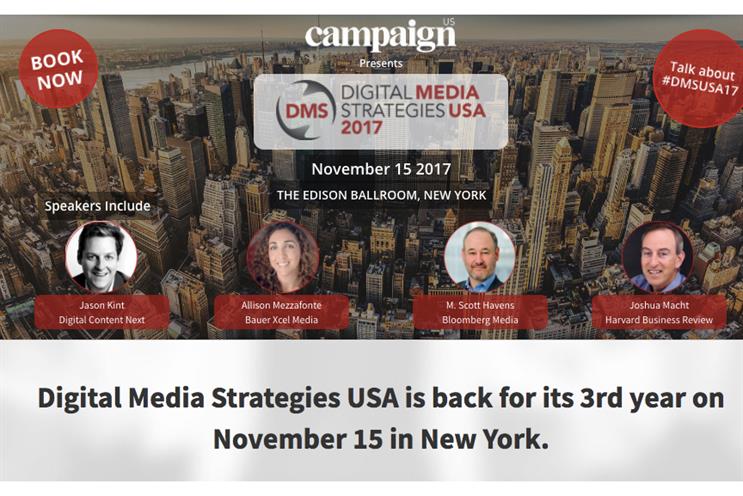 Business Insider co-founder Henry Blodget, Washington Post chief revenue officer Jed Hartman and Digital Content Next chief executive Jason Kint are among the speakers.
Senior executives from Bloomberg, Cheddar, Condé Nast, Diply, Forbes, Google, General Atlantic, Harvard Business Review, Panoply, Upworthy and other leading companies are also due to speak during the day-long conference.
Digital Media Strategies USA 2017 will cover all the big issues facing the media sector including:
driving new revenue streams such as video, social and audio;
investing in quality journalism and tackling fake news;
improving measurement and trust in the media supply chain;
making the most of brand partnerships;
investment and M&A in digital media.
Digital Media Strategies USA, which is now in its third year, is taking place at the Edison Ballroom by Times Square in the heart of New York's media district on 15 November.
Gideon Spanier, head of media at Campaign, said: "Digital Media Strategies USA is a must-attend event for anyone looking to understand how the media industry is changing at a time of unprecedented disruption.
"We have a fantastic line-up of speakers who can identify the best opportunities for growth and are unafraid to tackle the big problems facing media head-on."
Haymarket, the parent company of Campaign, bought the DMS conferences business from UK-based Briefing Media earlier this year.
See the Digital Media Strategies USA agenda and find out about tickets at www.digital-media-strategies-usa.com
Contact Steph O'Sullivan, marketing manager of Haymarket Media Group at steph.osullivan@haymarket.com
Join us at Digital Media Strategies UK, the event that shows you exactly how to navigate the future of digital publishing. Click here to see the agenda and speaker line-up