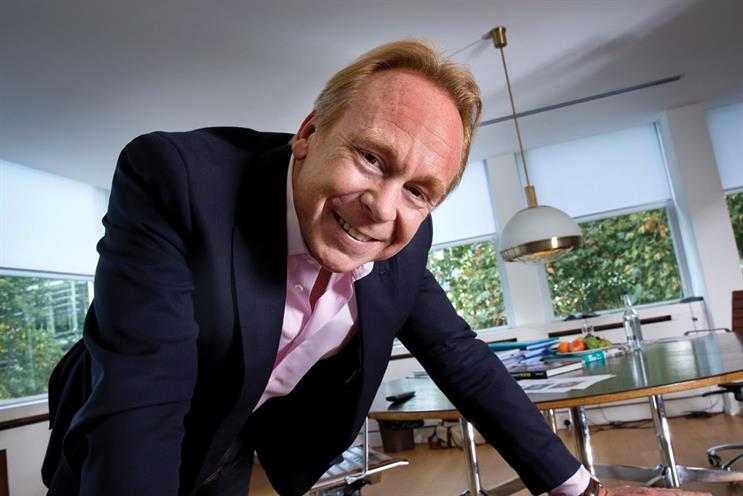 In taking over global leadership of the group embracing Saatchi & Saatchi and Fallon, Robert Senior, a ski fanatic with an interest in renovating alpine farmhouses, might be said to be moving his career above the snowline.
Ambition combined with relentless energy always ensured that the newly anointed chief executive of SSF Group was never going to be long on the nursery slopes.
The time has come for him to be tested in a more difficult environment.
A self-proclaimed vague notion of one day running the show suddenly became reality during a summer meeting in Singapore with Kevin Roberts to discuss how a smooth leadership transition might be best achieved as the 64-year-old chief executive of Saatchi & Saatchi Worldwide steps back from frontline management.
Senior, 49, currently SSF's EMEA chief executive, admits: "I was taken by surprise. It's not something I was anticipating." Which may explain his reluctance to talk in detail about what SSF might be like under his command. For one thing, he doesn't start until January. For another, he has yet to discuss the challenges ahead with staff.
At the moment, he will not commit himself beyond acknowledging the fact that "any change of leadership brings other change with it. In this case, the direction won't alter, but the means of travel might."
Any change of leadership brings other change with it. The direction won't alter, but the means of travel might
Nevertheless, clues about the philosophy Senior might bring with him to the new job can be found in the management style he has adopted since 2007. That was the year Maurice Lévy, the boss of Publicis Groupe, which owns Saatchis and Fallon (whose UK operation Senior helped found), appointed him to run both London agencies.
Despite a strong emotional attachment to Fallon, Senior professes an admiration for Saatchis stretching back to his earliest days as a graduate trainee at Burkett Weinreich Bryant. "I used to walk past 80 Charlotte Street every day and vowed that one day I would work there," he remembers. "This was the agency of 'the pregnant man' and Margaret Thatcher. It was an icon."
That Saatchis should be able to keep abreast of what today's clients need while exploiting its famous heritage has always been important to him. So much so that, on his first day in charge, he changed the name of the agency's pub back to The Pregnant Man. It had previously been called The Gum Factory, after the agency's branded content unit. Two weeks later, he closed Gum.
On Senior's orders, famous ads again adorned the agency's walls. "It's got to be about the work," he insists. "That has to be the Saatchi epitaph – not a failed attempt to buy the Midland Bank."
No surprise, therefore, that he expects to work hand-in-glove with Pablo Del Campo, the Saatchis group's worldwide creative director. He and the Argentine already speak daily and Senior anticipates that there will be many more face-to-face meetings once he is in the top job.
Another indication of how SSF might be structured under Senior can be found in the EMEA region, where his emphasis has been on creating "hubs of excellence" based on specific disciplines.
Last year, Interactive Solutions, a leading Polish digital agency, was integrated into the Saatchis operation with a view to exporting its expertise across the region. Since then, it has carried out project work in France, Germany and the UK and has been talking to a global client in New York.
There are similar agendas for Outside Line, the London social media specialist that entered the fold two years ago, and Synergize, a digital search marketing company, whose activities now extend beyond its South African base.
Senior can't see why this strategy shouldn't be applied globally. "It's worked well for us in what is a challenging region," he says. "There's no reason for recreating every capability in every geographic area."
Clearly, there's a way to go on this. Just as there is in meeting Roberts' 2007 wish for the group to have the number one and two agency brands in the UK and for talent to move more freely between the networks to pull in more global business.
It's got to be about the work. That has to be the Saatchi epitaph - not a failed attempt to buy Midland Bank
Senior insists there is lots of talent cross-fertilisation, which will need to continue if SSF's brightest people are to be given the challenges they need. As for Roberts' wish, he is more realistic. "We're a long way off that both in the UK and globally," he admits. "However, I'm not setting out to be the biggest but the best."
And, if he succeeds, could there be an even larger prize awaiting him at Publicis Groupe, where recent boardroom upheaval has left the succession issue unresolved?
"I don't see this job as an audition," Senior says. "This new role is a big challenge and I intend putting all my energy into doing the best job I can. After that, who knows?"
The ads that inspired Robert Senior
Skoda 'factory' (2000)
Skoda's perception as a maker of "joke" cars changed forever with Fallon's commercial featuring a condescending Englishman being impressed by his factory tour, before telling his embarrassed hosts: "And I hear you make those funny little Skoda cars as well."
"The ad was a seminal moment for us," Senior says. "Not only was it honest and courageous but it showed the power of advertising to turn things around. For the first time, there was a waiting list for Skodas."

Sony 'balls' (2005)
For Senior, the sight of 250,000 brightly coloured balls bouncing down a San Francisco street heralded a new style of advertising.
"To this day, it remains one of the most extraordinary pieces of film I've ever seen," he says. "I remember being in a pub watching the three-minute version of the spot when it first appeared during a Sunday football game. You could have heard a pin drop. Within three weeks, we had to take the commercial off air because Sony had run out of TVs."


T-Mobile 'dance' (2008)
Senior believes this spot showing bewildered passengers' reactions to flashmob dancers at Liverpool Street station marked the moment Saatchi & Saatchi dramatically restated its creative credentials.
"We didn't know what would happen," Senior admits. "Would the choreography work? Would people join in? The result was 150 million YouTube hits and a film that put Saatchis back on the map creatively."
>
'Blood relations' (2011)
Five Cannes Lions went to Saatchi & Saatchi Israel for a campaign bringing together bereaved Palestinian and Israeli families to donate blood alongside each other, to save lives on the opposite side.
"Sadly, the situation in Israel and Palestine is as bad as ever," Senior admits. "But it's initiatives like this that make our industry special."