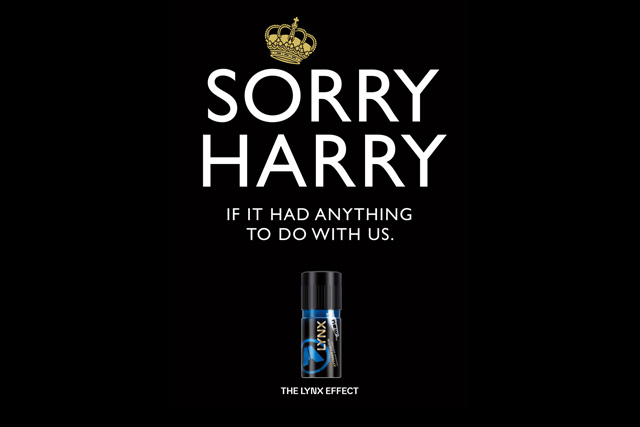 To be topical, clever and relevant are three attributes high on every brand's advertising wish list. Combining all three is no easy task, however.
Add to that a strategic decision, often taken at the last minute, to make your brand part of the news by piggybacking on a national story, and suddenly the risks to the reputation of your brand and you as a marketer come into sharp focus.
Unilever-owned Lynx has proved to be a master of quick-response 'newsjacking', as it has become known. Less than three days after the photos of a naked Prince Harry at a Las Vegas party appeared online, the brand responded with a parody of the 'Keep calm and carry on' posters, using the line 'Sorry Harry if it had anything to do with us'.
Lynx's response was so effective that Coca-Cola GB marketing director Zoe Howorth holds the work up as inspiration for Coke's future tactical marketing. 'The world was talking about Prince Harry, but Unilever flipped the conversation to talk about the benefits of Lynx in a funny, current way,' she told Marketing (14 November).
'That is not profiteering the situation, that's being relevant, and demonstrates another way to keep part of consumers' conversations and popular culture, which is part of Coke's overall aim,' she added.
'Newsjacking' has been given a boost by social media. Now brands can turn emerging news to their advantage within hours with advertising that is both humorous and topical. The potential benefits are obvious: get it right, and you build consumer affinity, affection and saliency for your brand.
Get it wrong, however, and it's not the agency under fire: the neck of the marketer who made the final call is on the line.
Specsavers has used the strategy to good effect (see below). Its ads poking fun at MPs' expenses in 2009, England's disallowed goal in the 2010 World Cup and the Korean flag mix-up at this summer's Olympics were quick off the mark, clever, funny and inoffensive. On the other hand, easyJet's 'Weapons of Mass Distraction' ad, featuring a close-up of a woman's ample, bikini-clad bust, which appeared in the run-up to the invasion of Iraq in 2003, was not in the best taste.
The cultural moment
Another name for the strategy is 'culture surfing', which, says Grant Hunter, regional creative director for Asia Pacific at Iris Worldwide, and co-author of a forthcoming book on newsjacking, better describes the phenomenon of 'picking a cultural wave and riding it'. This takes away from the idea of a real-time reaction to a news story, and places it more in the realm of a 'cultural moment'.
One example of this approach was last week's launch by EE of a remastered version of the 'Fenton' video that became a YouTube hit a year ago.
Spencer McHugh, director of brands at EE, says the brand wants to be 'modern, of the moment and culturally relevant', which 'may or may not' tie in with a news story. 'We don't go out to find something to associate (EE) with, but we felt "Fenton" was a way of showcasing a big technological advance.'
Whether marking a first anniversary of a viral makes a brand 'culturally relevant' remains to be seen. Hunter believes that EE's Fenton spoof may have missed the wave.
That is not to say that there can never be planning. If a major cultural event is on the calendar, brands can explore whether they have a place in the conversation. T-Mobile's spoof Royal Wedding video, by Saatchi & Saatchi, is one example. It has had more than 29m YouTube views since its debut last year.
With the luxury of time, there is greater opportunity for brands to create a more slick response. While T-Mobile raised eyebrows, however, ads related to an on-diary event will typically lack the surprise that comes with a cheeky quick-response ad.
Nestle, for example, with its agency JWT, sent a Kit Kat attached to a weather balloon into space last month. The intention was to 'sweeten' Felix Baumgartner's enforced break after he halted his first Red Bull Stratos space jump due to bad weather.
While seizing on a cultural moment could pay dividends, and gain column inches and social-media chatter beyond the paid-for media, the message's tone and execution must be carefully considered. Time is of the essence when it comes to topical tactical ads, but should never be rushed into. Specsavers marketing director Richard Holmes advises that marketers should always be prepared to say 'no' at the last minute (see below).
Here we highlight the major considerations marketers must work through before putting their brand, and themselves, in the news.
1. Choose your 'moment'
'Don't jump on the bandwagon for the sake of it,' warns Mobbie Nazir, head of digital strategy at ad agency JWT. 'Ask whether this really is relevant for your brand, will add to the conversation with consumers, and whether you have a unique take - or are you just piggybacking an event.'
Iris' Amsterdam office created QR codes on the city's frozen canals earlier this year using a sheet-metal stencil, sticky sand and chalk. As the ice started to thaw, the QR codes revealed themselves, and people using their mobiles to click on the codes were taken to a page on melting ice caps on Iris client WWF's website.
2. Don't become the joke
Newsjacking is almost always centred on humour. Striking the right tone is essential to ensure you generate the right sort of conversations - and don't end up being the butt of a bad joke. 'The creative must reinforce key brand assets in a way that is natural for the brand,' says Nazir.
Nestle's Polo brand, a JWT client, took advantage of the snow blanketing the country in December 2009 with a 'Polo snow stamp', which left a perfect replica of the mint in thick fresh snow. Something as simple as unexpected weather was enough for Polo to place itself in the moment and become part of the conversation.
During the Olympics, MasterCard's ad depicting London Mayor Boris Johnson stuck on a zipwire, clutching two Union Jacks, was a typically witty, good-humoured poke at rival Visa (an official sponsor of the London Games, unlike MasterCard). The copy read: 'Visa's sponsorship of London 2012: pounds billions. Boris proving that not everything flows better: priceless.'
3. Be brave, say no
Client and agency processes need to be set up to respond quickly, even in organisations where there are many layers and stakeholders. That requires bravery on the part of the brand, trust between brand and agency, and one person being ultimately accountable for the decision.
This only works when you know your brand inside out, warns David Kolbusz, joint creative director on Lynx at BBH. 'You need to understand the brand values and limits very well, and empathise with the audience. We dismissed two Prince Harry ad headlines before we came up with the final one.'
4. Know when newsjacking is in bad taste
Gap, American Apparel and Sears were pilloried for seeking to capitalise on Superstorm Sandy in their US sales messages last month. In April, KFC apologised for a post on its Facebook page urging Thais to hurry home and monitor earthquake news with a bucket of KFC chicken; and fashion brand Kenneth Cole tried to tap into the Twitter buzz about the Arab Spring in 2011 with a tweet saying 'Millions are in uproar in Cairo. Rumor is they heard our new spring collection is now available online at...'
Such poor decisions are put down to a combination of inexperience, failure of common sense and inadequate protocols, according to observers.
'You have to act fast, but need to take a beat, because once it's out there, it's out there,' warns Hunter. 'It's like the drunken tweet that seemed a good idea at the time, but feels very different the next morning.'
The line between being exploitative and clever may be a fine one, however. When the Chilean miners emerged from the collapsed mine in 2010 after 69 days, they were presented with Oakley sunglasses to protect their eyes - a gift that generated about $40m of free publicity for the brand.
BRAND VIEW: KNOWING WHEN TO SAY NO
Richard Holmes, marketing director, Specsavers
'Newsjacking' isn't appropriate for every brand. It works for us because of our nice, friendly, wry brand image, and because we are famous for one joke - 'Should've gone to Specsavers' - which simplifies things.
There are two key principles: fairness and speed. We are a commercial organisation and when we make a joke we can't be nasty, unfair or insensitive. A few weeks ago, a cinema audience including children was shown the start of a horror movie by mistake. Others picked up on it and referenced our endline, but we couldn't turn it to our advantage in an ad because the children had been frightened and their parents were upset.
So the key question is: does it feel right? - and you have to play that out in different scenarios.
When you do respond, speed is of the essence, and we benefit hugely from the fact that our creative team is in-house. They know they can call me at any hour of the day or night, wherever I am, with an idea. I will say yes or no within 30 minutes, and, if the answer is yes, book the ad the next day. The key is having one person who makes that call, and the buck stops with me.
However, I usually say no. We are selective and pick our moments - for several reasons. If you did this too often, it would lose its impact: part of the appeal is the element of surprise. Also, good judgement is critical, and much of that comes from a thorough understanding of your brand.