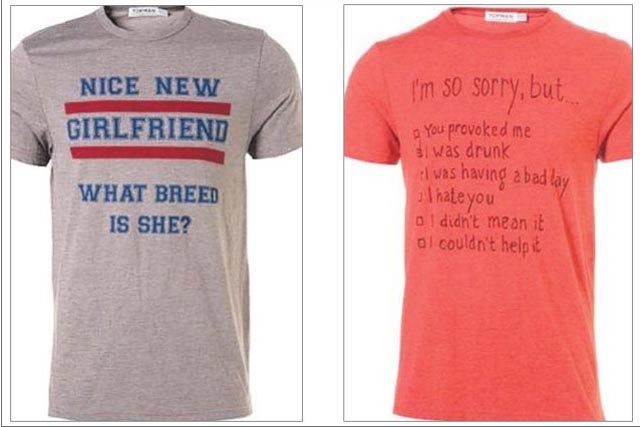 The text on one of the printed T-shirts read, "I'm so sorry, but", followed by a series of excuses including, "You provoked me", "I was drunk" and "I couldn't help it".
The other T-shirt had the text, "Nice new girlfriend", followed by "What breed is she?" immediately underneath.
Topman, which is owned by the Arcadia group, received a barrage of criticism on social media sites, including a comment from Twitter user Sofia Farelli, who labelled the "What breed is she?" shirt "beyond disgusting."
A thread on Mumsnet called, "OMFG! Topman glamourising domestic violence" had received 68 posts at the time of writing.
Topman has apologised for any offence caused by the T-shirts and insisted they were designed to be "light-hearted". The retailer said in a statement: "Whilst we would like to stress that these T-shirts were meant to be light-hearted and carried no serious meaning, we have made the decision to remove these from store and online as soon as possible.
"We would like to apologise to those who may have been offended by these designs."
Arcadia-owned Topshop has received negative publicity of late, with allegations of tax avoidance.
Protest group UK Uncut has organised a number of protests in Topshop, including its flagship store on Oxford Street, which have caused the retailer to close the stores while the protestors were removed.