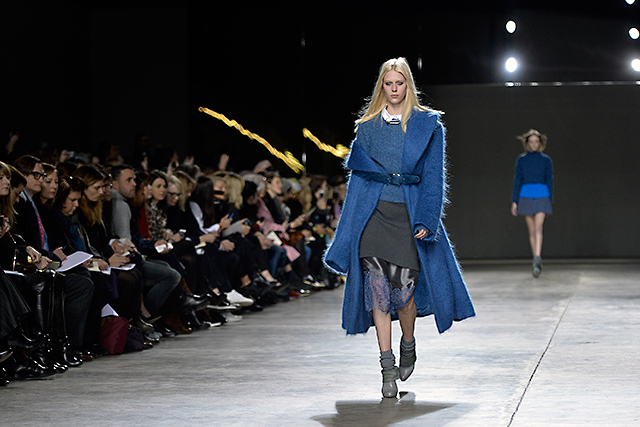 The high street giant claims it is creating its "most socially accessible fashion show to date" with a range of initiatives designed to democratise fast fashion. The move is part of a widespread shift across the fashion industry which is embracing the concept of the digital catwalk as a way to bring their key collections closer to consumers.

The shift also reflects the growing importance of Instagram to the fashion industry and the visual social network will also play a key role in Topshop's strategy. Five influential Instagram users will curate and share their own view of the new collections across Topshop's digital channels and in the retailer's flagship Oxford Circus store.

Additionally, consumers will be invited to showcase their own looks using the hashtag #TOPSHOPWINDOW. A triple screen installation in store will showcase the images from both consumers and the handpicked Instagram collaborators.

The screen installation, which was created by British design team Hellicar & Lewis, will create a fully interactive digital mosaic. According to Topshop, consumers will be able to interact with the images from the street. At 3pm this Sunday (14 September) the mosaic will stream the Topshop Unique fashion show. The retailer claims the move will be the 'world's first fashion show created by Instagram imagery'.
Community Curation
The retailer will be using the imagery to inform its in-store visual merchandising across the globe. They will feature fashion-week areas inspired by the real-time imagery gathered via social media.

Commenting on the strategy, Sir Phillip Green, the founder of Topshop owner Arcadia, said: "This season the strength of our social community allows us to be the first brand to debut looks from a catwalk collection on a social network granting unprecedented access online."

One Click Collection
The brand is also embracing fast fashion and for the first time six pieces from the collection will be on sale in the Oxford Circus store and on Topshop.com immediately. The move reflects a broader shift in the fashion industry which is moving away from the rigidly defined seasons to embrace trends which consumers can wear immediately. This shift has also been embraced by upmarket fashion brands including Burberry.

London Fashion Week, which kicks off this weekend, will be not just a showcase for the latest trends but a demonstration of digital showrooming on a global stage. Most major fashion collections are now streamed online as well as in the packed show spaces of Somerset House and beyond.

The fashion PR industry, who often adhere to the mantra 'no is a complete sentence' is shifting its once frosty relationship with digital media in favour of a wholesale adoption. As one PR succinctly explained, the digital catwalk is at least "mercifully free of the myriad of potential minefields" that accompany creating a seating chart for a traditional catwalk show.