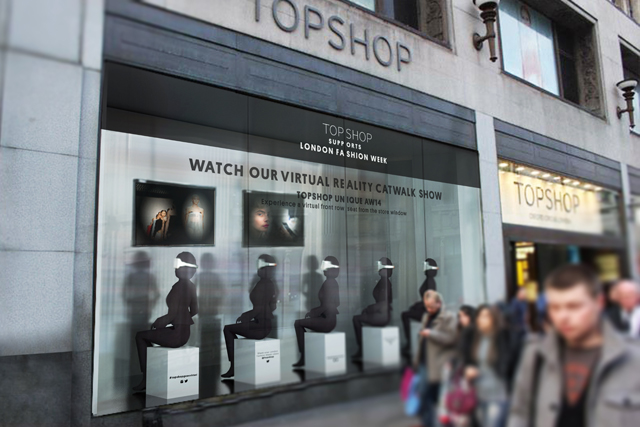 Working with 3D specialist agency Inition, Topshop will give shoppers at its store VR headsets to don, enabling them to experience a 360-degree virtual world comprising a live-feed of the catwalk show, backstage goings-on, VIP arrivals, set design and animated features.
To build anticipation for the event, Topshop has produced a trailer to promote the activity.
The Topshop Unique Show will be available to view by shoppers on the 16, 17 and 18 February during store opening hours.
The show itself will take place in the Tate Modern's Turbine Hall, with an open-set design that will allow visitors to the venue to view the proceedings from various viewpoints around the gallery.
Topshop will also stream the show and content to its website. Activity will include a live Twitter gallery on its homepage from the morning of the show and the retailer has asked fashion insiders to tweet content from the front row of the show. Topshop will also post Vine videos.
Sir Philip Green, owner of Topshop parent Arcadia Group, said: "This season's live stream in virtual reality between two iconic London destinations, the Tate Modern and our flagship store in Oxford Circus, takes the idea of the traditional fashion show to a new dimension, as we continually look for new ways to engage, excite and involve our customers."
Andy Milns, co-founder and creative director of Inition, added: "We are excited that Topshop have the vision to explore the next revolution in mass media – virtual reality. VR is the ultimate interface to the digital world with the power to transport the user to another place as soon as they put on a special display."