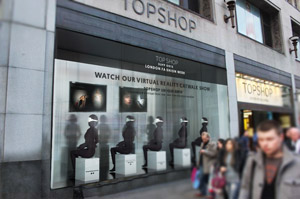 The Topshop Unique show will take place between 16 and 18 February and will be live streamed from the Turbine Hall at the Tate Modern to offer the brand's customers a virtual front row seat.
The Arcadia Group-owned brand will give participants specially commissioned head-sets to wear to enter the 360-degree virtual world, which will be a hybrid of live feed of the runway, the backstage action, the VIP arrivals, the set design and animated features.
Special cameras recording the scenes will be deployed on the catwalk and backstage so that each participant can look around at models and celebrities as part of the event.
Topshop will be running a competition through its website and social media platforms for five winners to be the first to experience the show taking place in the Tate Modern.
The brand is also opening up its usually sealed-off set to visitors at the Tate Modern in the lead up to and during the event. The set-up, the rig and the show will be visible from various viewing platforms that overlook the Turbine Hall, allowing individuals to see the inner workings of the event.
Sir Philip Green, owner of Arcadia Group, said: "The Topshop Unique show is going from strength to strength; not only in terms of the collection but also in how we share this with our customers at home and in our stores, giving them an up to the minute runway show experience.
"This season's live stream in virtual reality between two iconic London destinations, the Tate Modern and our flagship store in Oxford Circus takes the idea of the traditional fashion show to a new dimension, as we continually look for new ways to engage, excite and involve our customers."
Andy Millns, co-founder and creative director of Inition, added: "We are excited that Topshop has the vision to explore the next revolution in mass media - virtual reality. It is the ultimate interface to the digital world with the power to transport the user to another place as soon as they put on a special display.
"This unique technology has the potential to open up fashion shows to the consumer at home and we believe this will be the first of many executions of this kind. Inition is delighted to be working with Topshop on this ground-breaking project."
Topshop's Unique show is the first fashion catwalk to take place in Tate Modern's Turbine Hall.
Are you involved in any London Fashion Week events? If so, contact news editor Samantha Edwards.
For more in-depth and print-only features, showcases and interviews with world-leading brands, don't miss the next issue of Event magazine by subscribing here.
Follow @samedwardsevent