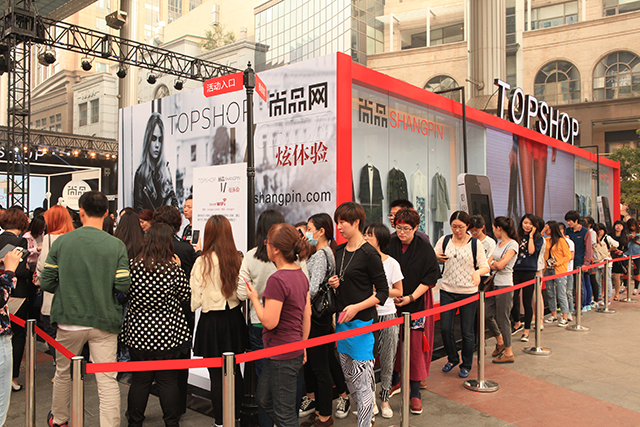 The British fashion giant, which is promoting its launch via Chinese luxury retailer ShangPin, launched a campaign entitled 'The Mobile Adventure'. This invited shoppers to a virtual 'try-on' and to share images and purchase 'looks' via QR Codes. The editorial approach, which included the creation of a mobile game, was aimed at forming a deeper connection with Chinese consumers.
David Zhao, CEO of ShangPin, says that the campaign was intended to 'seamlessly merge the physical and virtual worlds', targeting the growing tranche of young consumers who spend up to 30% of their day online or on mobile.
ShangPin will promote more than 300 looks a month through its styling and social-marketing platform, which are designed to be shared across social-media platforms.
While many Western brands have formed local partnerships with Chinese brands as they look to circumvent the logistical challenges of delivery and distribution across mainland China, the Topshop deal suggests that such partnerships must go beyond simply providing a distribution arm.
Sir Philip Green, chief executive of Topshop owner Arcadia Group, says that Chinese consumers are looking for more than just a convenient check-out. 'They want trend-driven products and advice on how to style a look – something ShangPin is well positioned to help us deliver.'
responsive slider by WOWSlider.com v6.4m
According to Zhao, today's young Chinese consumers have an appetite for luxury. 'Unlike their parents, fashion for them is about more than logos. This new generation of Chinese consumer is looking to fashion as a means of self-expression and is seeking a more egalitarian mix of designer and high-street brands, merging the two into a simple look,' he adds.
ShangPin, which launched in 2010, is China's first dedicated online retailer, selling multiple contemporary fashion brands, including Diane Von Furstenberg and Lanvin. The site, which has more than 5m users, initially targeted the top clients of three of China's biggest banks.
However, armed with a significant investment from VCs, the site is now focusing on using a social-content approach to help educate consumers on style, with a range of tutorials and tips.