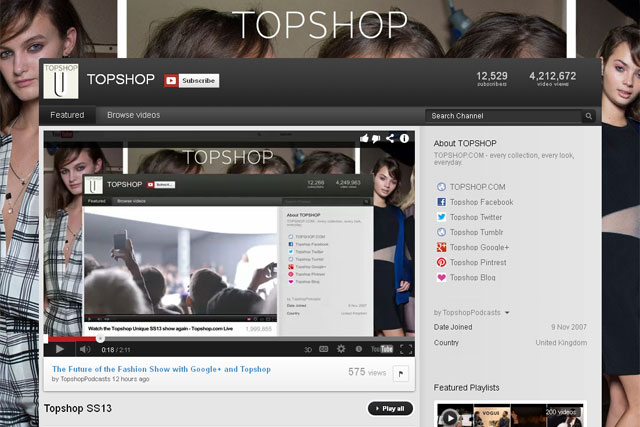 The Arcadia Group-owned retailer said it will "re-imagine the fashion show" with a series of digital innovations giving customers unprecedented access to its catwalk event on Sunday 17 February at the Tate Modern.
Among the innovations is a "Model Cam", a series of cameras showing the catwalk from the perspective of a model, and the "Be the Buyer" fashion hangout app which allows users to create their own mood boards featuring their favourite pieces from the show.
Content will be hosted on Google's social network, Google+, while footage will also be streamed live on Topshop's YouTube site. A series of Google Hang Outs will also allow viewers to log in to cameras in at Topshop's headquarters, with the opportunity ask the design team questions.
Furthermore, Topshop will use Google's Gmail and Maps tools to engage fashion fans with its content.
Justin Cooke, chief marketing officer at Topshop, said: "By partnering with Google we are broadcasting the show to the consumer from every single perspective. A fashion show from concept to creation. With everything from the nail polish to the music instantly purchasable and shareable this really is the future of the fashion show."
Marvin Chow, global marketing director, Google+, said: "Topshop has done an amazing job of creating an unprecedented experience through a number of Google technologies to connect fans with the highly coveted models, designers and influencers behind popular culture and fashion. Just another fantastic experience for our growing Google+ community."
Last September, Topshop created what it claimed was the most-viewed online fashion show ever when it teamed up with Facebook to devise a "customisable catwalk" plug-in for Topshop.com.