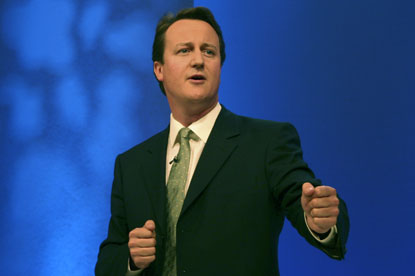 Senior Tories insist their stated policy to restore the Whitehall ad budget to 1997 levels remains unchanged.

But party sources say it is not certain to be included in the Tory general election manifesto, which would give a Cameron government some crucial wriggle room.

Tory advisors are said to have been influenced by the Department of Health's high-profile campaign to inform the public about the swine flu pandemic.

While they have promised to scrap wasteful ad campaigns, they have pledged that vital public health and safety campaigns will not be affected.

The ad industry is nervous about the proposed Tory policy, which would mean reducing the Government's budget from £156 million to £69 million and, despite the industry's doubts that such a swingeing cut could be delivered in practice, the Tories have already banked the savings from it to fund a two-year freeze in Council Tax bills.

David Cameron repeated the promise when he launched his party's campaign for the
4 June local and European elections.

We'll free up funds by cutting Whitehall spending on government advertising and unnecessary public sector consultants, he said.

Tory sources said a final decision on the precise wording of the manifesto would
not be taken until nearer the General Election.